Here are 10 things you need to know about Hillary Nzioki Mutyambai
1. Hillary Mutyambai has been sworn in as the new Inspector General of Police in a ceremony held on Monday at the Supreme Court.
2. Mutyambai was born in Mwala, Machakos County, in 1964. He obtained his bachelor's degree from the University of Nairobi and his master's in national security policy at the Australian National University.He is Akamba
3. He is married to Prof Susan Nzioki and together they have two kids David and Lucy.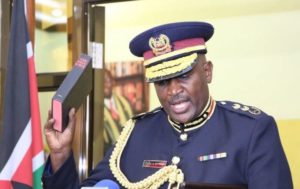 4. He has received a range of training from across the world. He attained his counterterrorism training in New Orleans in the US, operational management training in the United Kingdom, advanced security analysis training in the US again, and policing, intelligence and counter-terrorism training in Israel.
5. His professional training in counter-terrorism was used during the 14 Riverside terror attack in January. He coordinated the rescue operation of nearly 700 Kenyans and the killing of the attackers.
6. Mutyambai joined the Directorate of Security Intelligence in 1998, after which he continued to rise in the ranks to become the deputy director in charge of counter-terrorism. In this role, Mutyambai is credited for working with the police and military units in the fight against terrorism.
7. He has also served as Coast regional NIS boss and was at one time a political attaché at the Kenya High Commission in Kampala, Uganda.
8. Mutyambai becomes the third Inspector General of Police under the new constitutional dispensation after Boinnet who took office in February 2015; replacing David Kimaiyo who is the current Chairman of the Kenyatta National Hospital (KNH) board.
9. He declared during his vetting interview that his net worth is Sh30million
10. The civil society groups have presented A 20 page document to the new IG listing their demands which includes that he commits to ending extrajudicial killings in his first 100 days. They also want IG Hillary Mutyambai to commit to ending human rights violations and enforced disappearances in his first 100 days. They also demand that Mutyambai and his team to end the use of torture in interrogation by security apparatus under his control.