A Video has emerged where a popular Kalenjin pastor was caught having sex with his follower. The pastor, who pretended to be praying for the woman was forced to abandon prayers when he constantly watched the woman's thighs and forgot his brain behind.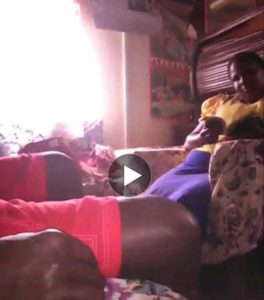 Within two minutes, the pastor had changed his mind from being the servant of God to the servant of temptations. He stood with a speed of lightning and held the woman tight as he squeezed himself between the thighs, the woman responded by holding him tight.
It's after one minute of changing saliva that the man of God decided to risk it all and remove the woman's pant.
A camera which was mounted on the woman's house captured everything to the end,the video is so sweet that you can't avoid watching it to the end—but watch when nobody is looking at you.Mwisho aliweka yote ndani hadi akamaliza,mwanamke alipiga nduru.