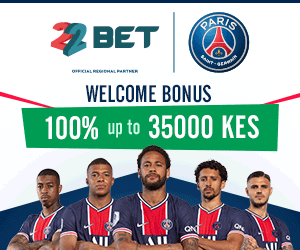 Sportpesa,Betin,Betpawa,Betway,1XBET and all other top betting sites will finally return,I believe late in August.Currently,less than 10 companies are enjoying the space.
The remaining companies should pray hard for Sportpesa to continue being out of business because when it will resume operations, some of the existing betting sites will close shops. Over the past 3 weeks, Betika,Betlion and a couple of other sites have been terribly exposed. They were given a chance to take up the clients of the closed companies but never capitalized on the chance.
Initially,85% of the 12 million gamblers were betting with 3 betting sites, which means that this number was up for grabs when the 27 companies were closed. This is the time the remaining sites were to take advantage and provide efficient services,but sue to ignorance,some have continued with their monkey businesses,only Odibets and 22bet are doing a wonderful job,(click here to sign up to 22bet and get 100% bonus)
Most gamblers I am talking to informs me that they decided to rest until Sportpesa and their favourite sites are back. They have tried some of the operating sites,and disappointments have been the order of the day. One of the bettors told me that he placed a bet of Ksh100 and was expecting Ksh104,000. He had won all the games in the slip but when the last game was about to be played, his bet was cancelled. He contacted the company only to be informed that there was a technical issue and that he should place a different bet,his Ksh100 was refunded—this is absolute theft.
Currently, there are 12 million gamblers in Kenya but when Sportpesa will resume, more than 2 million Kenyans others will join the gambling world this year.It's like Matiangi has marketed the betting sites. Psychology says that when you stop somebody from doing something, that's when you motivate them to do the thing,