This is Lena Moi,the wife of former President Daniel Moi.Lena was a teacher before she divorced her husband in 1979. After their marriage was annulled, Lena retreated to her Kabimoi home in Eldama Ravine where she led a private life.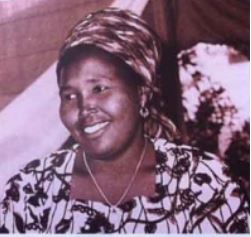 Nation noted that she lived a rural woman's life and often used public transport. However, she didn't mind using matatus.
During the burial of Ibrahim Choge, the husband to her daughter Doris, Lena took a matatu from Eldama Ravine to Nandi Hills.
A family source revealed that she arrived on foot as other mourners showed up in cars and helicopters.
A few years before her death, Lena's bedroom was shifted to her sitting room because her roof was leaking.
When she passed away in 2004, the question of where she would be buried was a bone of contention.
At first, it was announced that she would be laid to rest in Sacho, an abandoned Moi homestead where nobody lived.
However, her brother, William Bomett, protested the move and told Moi that he would bury her in Eldama Ravine if she was not laid to rest in Kabarak.
Moi ruled for 24 years without the mention of his wife Lena.The strong woman died poor and lonely