Jane Wawira Mugo- a Serial Criminal is wanted by the DCI for various criminal activities including Robbery with Violence, Personation & Threatening to Kill. A Warrant of Arrest to that effect is in force after being issued by Milimani Law Courts. To be arrested on sight.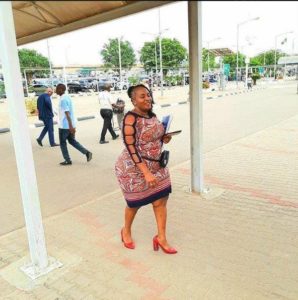 Wawira who claims to be a Private Investigator & CEO of Trimo Security Limited has been charged with various offences:-
In 2015, she was accused of and charged with detaining a man for hours after forcing him to pay her Ksh. 440,000/= vide CR141/184/2015.
In the same year, she was accused of Personating a Person Employed in the Public Service whereby she stormed the office of the victim's lawyer (the detained man) and introduced herself as a Police Officer, searched the house and Created Disturbance vide CR141/187/2015.
Further, she is accused of having abducted a Nairobi Businessman and locking him in her office at Baba Dogo and forced him to pay a debt of Ksh. 400K. She was charged with Abduction, Personation and Creating Disturbance vide CR141/183/2015. All charges dropped under section 204 of the Criminal Procedure Code.
On 12th December, 2016, her employees; Isaac Ndirangu, Noreen Malala & Michael Gitau robbed off a man Ksh. 90,000/= which he had withdrawn from a bank after they had introduced themselves as police officers. They were carrying a radio phone, handcuffs and armed with a pistol- they were charged with Robbery.
On 15th August, 2019 at New Muthaiga Estate, Wawira drew a pistol and threatened to kill a man on allegations that he was spying on a relative of the Director in a company where she was a private investigator vide CR 141/325/2019.
Anyone with information about her whereabouts at report to the nearest Police Station.