Nominated Senator Isaac Mwaura found Facebook too hot to handle after he posted a photo stolen from Zambia.
The Senator was trying to convince Kenyans that his leadership is inbuilt by displaying a photo of an Albino child addressing other children. But hawk eyed Kenyans roasted him after discovering he lifted the photo from another country.
Here is what he posted: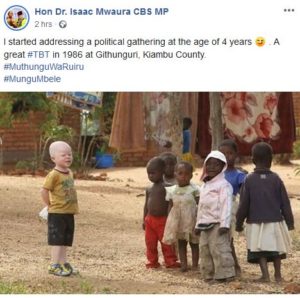 Below is how Ruthless Kenyans responded:
Joseph Akal Otieno In as much as your story inspires hope and resilience, I don't think it is proper to use someone else's photo claiming it is your own. You could still have driven your point home without having to lie in broad daylight that this photo was taken in 1986 somewhere in Kiambu! Otherwise yours is such an encouraging story. I wish you well Jatelo.
Francis Jangaralito Wainaina I like you but wacha uongo,the quality of the picture tells a lot.Senator kiambu 2022 you have my vote.
Ndungu Harun Hehehe I love this.
Kwani how hard is it to know the picture is not his but captures Mhesh childhood life so well.
Mutava Jnr Hon Dr. Isaac Mwaura CBS MP you know to cook things, the person who gave you that idea forgot to tell you to change the photo to black and white,
Freda Tracy Gakii That's not you Mhesh thats in TANZANIA the colour of the photo cannot be in the 80s