Mursik is a special type of fermented milk which is mixed with some concoction in form of charcoal. It's believed that this milk is the reason behind Kalenjin success in athletics.
One of the health benefits of Mursik is that it cleans blood. It's believed that the charcoal that's used in Mursik is responsible for cleaning of blood, thus generation of more white blood cells that fight diseases. The clean blood also ensures that all body organs are in perfect condition.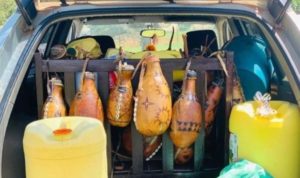 The milk used to prepare  Mursik is also rich in energy vitamins. Kalenjins take this milk on daily basis, especially the runners. Even runners from other countries have found themselves taking Mursik regularly because it is believed to be the magic behind the Kalenjin community's success in long distance running.
In Kenya a glass of mursik costs between Ksh30 and Ksh150. The most common areas where you'll find this type of milk is Eldoret, Nakuru, Kericho, Bomet and the entire Rift Valley region. It's interesting that the milk is finding its way to Nairobi and Kisumu.
If you are an upcoming athlete,try taking Mursik,it might work magic.