Former PM Raila Odinga's advisor, Miguna Miguna, has revealed that he has crucial information which is important for public consumption. The information will directly cover DP William Ruto, the man nobody dares to attack.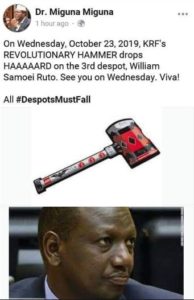 On 23 October 2019 Kenyans are advised to gather on Miguna Miguna's wall to read the crucial information which he will be unleashing. He has promised that Ruto's reputation will be punctured forever if Kenyans are given a chance to read what he will reveal tomorrow.
The only Kenyan with 2 same names has been attacking Raila Odinga ever since the month started. He claimed it's only Rosemary Odinga who is the biological daughter of the former Prime Minister.Let's see what he will tell Kenyans.