Doniti is the latest website in Kenya that is scamming innocent Kenyans. The owner,Dancan Mugo ,originally owned Mimo News and after scamming over 1,000 Kenyans, he decided to open another site by the name Doniti(https://doniti.com/)
Doniti is promoted by another scam site Gofutaa(http://www.futaatips.co.ke/). Gofutaa posts articles with links that drive traffic to Doniti.When you finally land on Doniti, you are told to pay Ksh1,500 or Ksh2,000 to start earning. Once you pay, you are given login credentials where you are required to post fresh articles, share and comment on the articles. The more you post and comment, the higher your earnings. The fake earnings are reflected on the dashboard. You will then be required to withdraw at the end of every month. When that time of the month reaches, Dan blocks your phone number and your money is lost.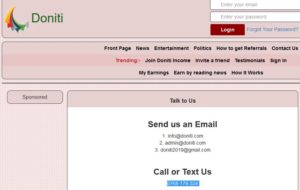 In July, August and September, the administrator, Dan Mugo whose phone number is 0768 179 324 blocked over 500 Kenyans after they requested for their money.
Doniti uses the till number 654287.Whenever you see this till number, know that it belongs to a scammer and whenever you are told to pay the Ksh 2,000 ask the admin what he did to Mimo News clients—nobody was paid.
Instead of being scammed by this pyramid scheme, which is equivalent to Public Likes, you better gambler with your money on Odibets, Betway or 22Bet.