Betway Kenya has provided latest update in regards to tax on winnings. The company says that from today henceforth, the 20% tax will only be charged on net winnings.
"NOTICE
There has been a change to the withholdings tax calculation. The taxation rate remains at 20% but is now calculated on net winnings which is payout less stake",Betway's message on Facebook
This is good news to gamblers because the impact of this tax will be small. The information comes a day after a tribunal court in Nairobi ruled that the tax on winnings won't affect the principle amount.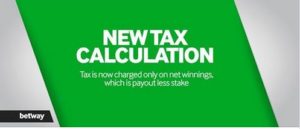 Betway becomes the first betting company to review tax on winnings, which is a positive step for players.If you want to join Betway,follow this link