How to join Flying Squad in Kenya is a question many Kenyans would want to know it's answer. There are several steps of joining the elite squad within the police.
Step1
You can't join Flying Squad without joining the police. First you have to participate in the police recruitment, after qualifying then get recruited as a police officer.
Step 2
During regular training and after gaining practical experience, you'll be posted within Nairobi Area, then at The Police Headquarters where you are deployed under the direct command of CCIO Nairobi County who is responsible for administration, logistic and coordination purposes.
But for you to be deployed under this unit, you have to be a sharp shooter. This unit within the police is selected from the elite of the elite.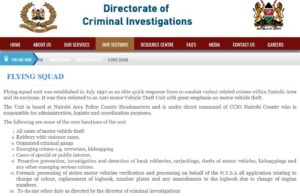 Step 3
As the Flying Squad member, you will be deployed to various areas within and without the city to perform the following functions:
Deal with all cases of motor vehicle theft
Robbery with violence cases.
Organized criminal gangs
Emerging crimes e.g. terrorism, kidnapping
Cases of special or public interest.
 Proactive prevention, investigation and detection of bank robberies, carjackings, thefts of motor vehicles, kidnappings and any other emerging serious crimes.
Forensic processing of stolen motor vehicles verification and processing on behalf of the N.T.S.A all application relating to change of colour, replacement of logbook, number plates and any amendments to the logbook due to change of engine numbers.
 To do any other duty as directed by the director of criminal investigations
The Flying Squad is a group of police officers who are assigned the duties outlined above, they are selected from among the disciplined members of the police after rigorous training.