IGCSE is the British curriculum which is taught in some of the international schools in Kenya. There are universities which accept students from these schools while others do not specify whether they admit or do not admit such students.
But given how Kenyan universities operate, there is no single university that can deny students with IGCSE education. However, USIU and Daystar are the most popular universities that admit students from IGCSE schools.
IGCSE schools are for a special group of students and they are more expensive than the normal secondary schools in Kenya. When you complete your studies from such a school, you should not downgrade yourself by joining a bottom ranked university, join a University with class, like The University of Nairobi or Strathmore University.
Below is a list of top universities in Kenya that admit IGCSE students:
University of Nairobi
USIU
Daystar
Catholic University of Eastern Africa
Kabarak University
Multimedia University of Kenya
JKUAT
Kenyatta University
Those are the top universities to join with IGCSE qualifications. Below is the admission requirement to Daystar University. You can see that there is an option for International Schools students.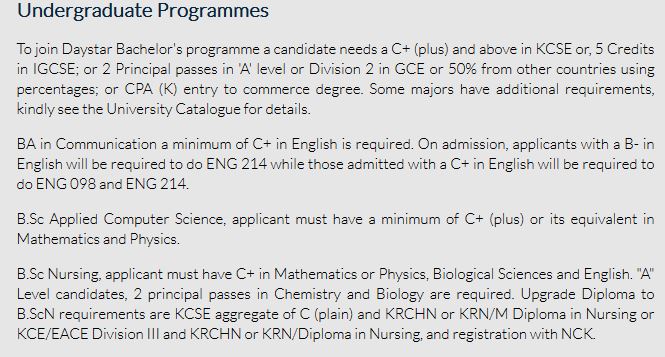 Here are the admission requirements to Catholic University of Eastern Africa:
Undergraduate/Bachelor's degree programmes
KCSE holders must have a minimum mean grade of C+ (Plus).
Advanced Certificate of Education GCE or A-levels applicants must have at least 2 principal passes and one subsidiary pass or its equivalent and must have passed in subjects related to the course applied for.
Diploma or professional certificate in a relevant discipline from an institution recognized by the University Senate.
Advanced Diploma in a Relevant field, applicant must have an ordinary diploma from a recognized institution,
Applicants for Advanced Diploma in Teaching in Higher Education must have a minimum of a Bachelor's Degree in any field.
Pre-University certificate with a mean of c+ (plus) and above from a recognized institution, and must have scored a C in KSCE or its equivalent.
Non-Kenyans
Must have satisfied the minimum University entry requirement in their country and meet departmental requirements for the subject applied for.
Candidates from non-English speaking countries shall be required to pass a special entrance exam set by CUEA and demonstrate proficiency in written and spoken English or have acquired a TOEFL score of 530 [paper based test] OR 2.3 [computer based test] or a score of at least 7.0 on the international English language Test System or their equivalent.
The university has also provided opportunity for IGCSE students.
Strathmore University will also gladly accept your application as long as you show competency.