More than 20 betting sites were closed in Kenya but a list of at least 12 sites are still operational in the year 2020. In July, Interior CS Fred Matiangi cracked the whip on 27 betting sites after they failed to implement the 20% tax on winnings. Sportpesa and Betin, which controlled over 65% of the stake in the country, were the greatest casualties while Betika, Shabiki and Odibets which were not affected , took advantage and gained sizable number of subscribers who crossed over from the closed betting companies.
When the dust settled, here are the betting companies that remained operational:
Eazi Bet
Ken Bookmakers
Eastleighbet
Mozzartbet
Lucky 2u
Palms Bet
Bet boss
Kick off
Easi bet
Betway
Bet254
22Bet
Gamemania
OdiBets
Odibet was incorporated in Kenya in 2018 and since then it has leapfrogged nearly all betting companies to become one of the best betting sites in Kenya. What motivates most players is the company's free bets, which are awarded to every new player. Even if you sign up right now, you'll get Ksh30 free bet instantly(sign up here)
You have heard that most betting sites will be closed because they have not complied with government regulations,Odibets is not among those companies, implying that it's the most trusted betting site in the country.
There are array of benefits you'll receive once you are an Odibetor,join the company and start reaping today,click here to register
To register for Odibet,follow these steps:
REGISTRATION
STEP 1
To register via sms send the word "ODI" to 29680. You will receive a confirmation message welcoming to you to OdiBets and asking you to reply with your preferred PIN/Password.
STEP 2
After you send "Password" to 29680, you will receive a confirmation message that you have been registered successfully and won a FREEBET worth 30/=.
DEPOSIT
How do I deposit cash into my OdiBets account? – Once you've completed your registration. To deposit money in your OdiBets account is easy.
STEP 1
Go to the Mpesa menu on your phone, and transfer money using the OdiBets Paybill number 290680 use account number ODI or your name.
M-Pesa Paybill: 290680
Account name : ODI
STEP 2
Your OdiBets account will be credited automatically. You will then receive a confirmation message from OdiBets for the deposit transaction.
    Betway
Betway originated from the UK and also growing massively in Kenya. The betting site offers daily jackpots, midweek as well as mega jackpot. Daily jackpot starts from Ksh 235,700 and contains 5 teams and it can go to Ksh 5 million. To participate in the daily jackpot, you register via this link(Click here to register on Betway website)
With Betway jackpot, you can bet with as little as Ksh 20.The nice thing about this jackpot is that you don't have to win all matches to receive your reward, the company has what we call cash out where you are rewarded after winning few matches.Sign up here
Betway mega jackpot has a total of 15 teams and amount to be won is Ksh 38 million. The company also has 13 game midweek and mega jackpot. It's upon the player to choose which jackpot to bet for,but nearly all the listed games in the two jackpots are the same. To register for the jackpot, click
    Venas News allows Kenyans to subscribe for the jackpot tips.To receive daily jackpot tips, you pay Ksh 1,200 per month to the till number 705909.Payment procedure is as follows:
Go to MPESA
Select Lipa Na MPESA
Select Buy Goods and Services
Enter MPESA till number(705909)
Enter amount(Ksh 1,200)
Enter MPESA pin and send
Betway is one of the betting firms that were closed by the government but it was later allowed to resume operations after it met all the conditions set by the government. Currently, the company has over 1000,000 active subscribers.
1XBET
1XBET is Another betting company you cannot easily ignore. For close to 2 years ,the betting site has wrestles other big sites and it's now about to leapfrog them.1XBEt has the best odds and withdrawing money from your player account is free.To register with 1XBET,follow this link
The company also has a 14-game jackpot and daily jackpots.The jackpot amount range between Ksh 5 million to Ksh 100 million. Follow this link to learn more
One advantage of betting with 1XBET is that you get 200% bonus on the first bet you place.There is also Ksh10,000 bonus on people who have lost cumulatively to Ksh 10,000(Learn more here)
    M-Cheza
M-Cheza is owned by Julie Gichuru and family. Though the company is not as big as Betika or Odibets,it has a significant number of subscribers.
Mcheza is one of the companies which met government regulations when others failed. Currently, over 500,000 Kenyans actively use M-Cheza to place bets.
Bet254
Bet254 is the newest betting site in Kenya. The company adopted Betpawa systems and infrastructure. Bet254 has the cheapest jackpot in Kenya. For Ksh10 one is able to win up to Ksh 25.4 million.
The company has two main jackpots: The midweek jackpot of Ksh1 million and weekend jackpot worth Ksh 25.4 million. The weekend jackpot is more popular with more than 50,000 players every week.
In addition to the two jackpots, Bet254 also offers daily matches were players can stake with as little as Ksh 1.
Venas News offers predictions for Bet254 jackpot at a cost of Ksh 1050 per month or Ksh525 for two weeks. We send a total of 5 versions to every subscriber. To subscribe, follow these steps:
Go to MPESA
Select Lipa Na MPESA
Select Buy Goods and Services
Enter MPESA till number(705909)
Enter amount(Ksh 1,050,Ksh525)
Enter MPESA pin and send
We send all the tips via SMS
BetLion
BetLion was launched in Kenya in the year 2019.The main selling point is the Goliath jackpot which amounts to Ksh 350 million. Betlion also offers daily jackpots of Ksh200,000, the jackpot has 8 games. There is also the midweek jackpot which contains 15 games.
Currently, there are over 1 million registered customers of Betlion.
Betlion Goliath jackpot bonuses start from 17 correct predictions. Since the jackpot was introduced in Kenya, nobody has ever won.
Betika
After the exit of Sportpesa and Betin, Betika took over as the most popular betting site in Kenya. Currently, the company ranks as the most popular site in Kenya.
Betika has two main jackpots: The grand jackpot of 17 games with a total cash prize of Ksh100 million and the midweek jackpot of Ksh15 million. The Grand jackpot attracts over 100,000 players every week.
Betika also offers daily games from various leagues and tournaments. Players can stake with as little as Ksh 1 and win up to Ksh1 million.
Venas News offers predictions for Betika games and jackpots. To subscribe for the games, pay Ksh 1010 per month or Ksh 505 for two weeks by following these steps:
Go to MPESA
Select Lipa Na MPESA
Select Buy Goods and Services
Enter MPESA till number(705909)
Enter amount (Ksh 1,010, Ksh505)
Enter MPESA pin and send
Betika remains the most popular betting site in Kenya unless Sportpesa resumes operations.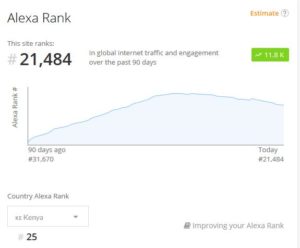 Shabiki
Shabiki is among top 5 betting sites in Kenya.The company is owned by S.K Macharia who is the one behind Royal Media Services.Shabiki specializes on jackpots only.The company has daily ,midweek and weekend jackpots.
The list of jackpots offered by Shabiki are as follows:
Shabiki daily jackpot(Ksh250,000)
Shabiki Power 13 jackpot(Ksh20 million)
Shabiki Jackpot Mbao(Ksh 20 million)
Shabiki daily jackpot gives bonuses from 5 correct games. Playing this jackpot costs Ksh25.Shabiki Power 13 comes twice a week, midweek and weekend, the bonuses start from 10 correct predictions.
The company's first ever jackpot was Shabiki Jackpot Mbao which has 10 games and a cash prize of Ksh 20 million. You only need a stake of Ksh20 to bet for this jackpot.
We offer predictions for all these jackpots every week at a cost of Ksh1070 per month or Ksh535 for two weeks. To subscribe, follow these steps:
Go to MPESA
Select Lipa Na MPESA
Select Buy Goods and Services
Enter MPESA till number (705909)
Enter amount (Ksh 1,070, Ksh535)
Enter MPESA pin and send
We will send the jackpot tips via SMS.
Lotto
Lotto is another betting site that offers weekly jackpots. One is required to select 7 out of 49 numbers with one number being declared as a bonus ball. When a draw is conducted and it happens that you are a winner, you'll walk home with more than Ksh 100 million….but in most cases, winners take home as little as Ksh100
22Bet
22Bet was incorporated in Kenya in July 2019.The company's website is almost similar to 1XBET and offers almost similar bonuses and games with those provided by 1XBET.The most beautiful thing about 22Bet is that they have Ksh15,000 welcome bonus and Ksh12,000 bonuses every Friday. To register, follow this link
22Bet is growing exponentially and soon it will be a big thing in Kenya. The company's odds are excellent and the tax on winnings is not charged. If you win Ksh 1,000 that's the money you will withdraw.


MozzartBet
Another company most Kenyans have joined in droves is Mozzartbet.Currently, there are over 2 million players on MozzartBet.The selling point is their daily jackpot which has a total cash prize of Ksh10 million. The most unique thing about this company is that it offers bonuses to players who get zero games correct.
Cheza Cash
Cheza Cash was also not affected when other companies were closed. The company has high ratings especially in terms of odds. Every week, Cheza Cash offers a jackpot of Ksh2 million.
There are plenty of games to play on Cheza Cash. Their site is also light and extremely responsive.
Cheza Cash offers Karibu bonus and Deposit bonus to their clients. The basic requirement is that a player must deposit at least Ksh200
At least those are the available betting sites in Kenya as of 2019/2020.One notable thing is that players have reduced significantly since Sportpesa and Betin were closed. Initially, there were over 10 million players but now statistics show that active players are 4 million only.
If the government implements the 20% tax on winnings as interpreted by KRA,the number of players will reduce to as low as 2 million. However, if court interprets that only net winnings are taxed, Sportpesa and several other betting sites will return to the market and that will see a surge in the number of players in Kenya.