Affordability of travel continues to be a key demand for Kenyans visiting various destinations. This is not forecasted to change this year. When it comes to international destinations, Dubai ranks as one of the most affordable and popular among Kenyans. Among East Africans, Kenya is ranked the fourth in traffic levels to Dubai and the numbers are expected to keep growing. Located about eight hours away on a direct flight from Nairobi, Dubai has become a favourite for Kenyan travellers because of the variety of experiences and inclusivity it offers. If you are looking to travel to Emirate for the Easter Holidays, below are some attractions to look forward to.
Discover the secrets of the desert
If you are one of the adventurous people, then you have taken a trip to Chalbi desert and experienced the joy of desert safari. Dubai takes that experience and super sizes it. Filled with food, dance, desert and gorgeous sunsets, go on a desert safari where you and your family can witness truly impressive wildlife and get a taste of Bedouin culture. Platinum Heritage and Arabian Adventures each have packages suited to all age groups and desert adventure seekers if you are not already using a local travel agency. If you just can't get enough of the golden sandy dunes, try an overnight Desert Safari, which takes you to an authentic Bedouin camp for an evening immersed in cultural activities, after which you can relax and enjoy a night under the desert stars. If viewing the desert from above is more your style, a ride with Balloon Adventures Dubai will have you taking in the wonders of the desert for miles around.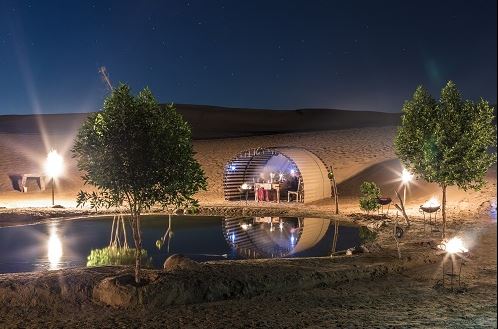 Find adventure
Heart-racing, blood-pumping, adrenaline-spiking adventure awaits those courageous ones who are looking for unforgettable moments in Dubai. See the city from 4,000 metres high as you soar through the sky with Skydive Dubai, or zipline between the city's spectacular skyscrapers with Xline Dubai. If winter sports are more your groove, you can ski on the slopes at Ski Dubai, or hug the road curves with a Formula One driving experience at Dubai Autodrome. Prefer some water with your adventure? Any one of Dubai's waterparks (Aquaventure, Wild Wadi and Laguna Waterpark) will keep your adrenaline going for hours, but if your idea of fun water activities is limited to observation, Lost Chambers Aquarium has marvels aplenty to awe and excite.
See Dubai on foot
For the curious and carefree who are keen to absorb the magnetic hum of the city, a tour on foot is just the ticket. If you want to get up close and personal with authentic local cuisine and flavour, Frying Pan Adventures' walking food tour will have you nibbling through Old Dubai. If you want artistic, self-created mementos of the city, Gulf Photo Plus, ShuGa Photography or Aperture Tours will arm you with the techniques you need to take incredible shots of our favourite sights. For solo explorers, self-guided tour options are available on mobile applications like Voice Map and Pocket Guide.