Exterior decoration materials are of paramount interest to both homeowners, aspiring homeowners, and house construction companies. Bricks are one of such building materials.
Ancient bricks have been irreplaceable for centuries withstanding modern house designs.
Bricks offer a reasonable number of benefits that other building materials do not. This leaves it highly valuable and appreciated by homeowners. Brick houses bring back adorable nostalgic feelings to homeowners that grew up in such houses.
If you simply love the radiant appearance of brick houses and you are considering building with bricks, this article is for you.
Read to the end as it would answer the striking question – what are the pros and cons of brick buildings?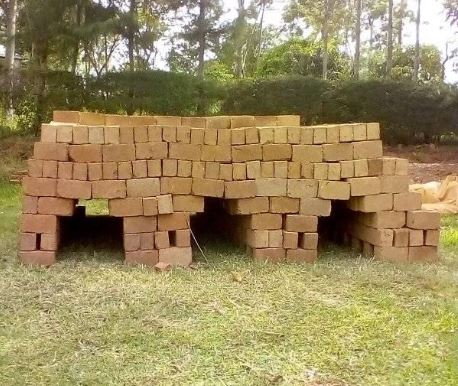 Brick Construction Pros
Brick homes are made of the earth's most plentiful raw material. Its durability withstands fire and weather fluctuations. Each brick construction is unique and different.
Bricks are highly durable
Generally, bricks suffer less destruction by insects. They hardly dent or decay as is the case with wood or vinyl. And they don't need painting after installation. Brick construction relatively lasts longer than other building materials.
Several ancient buildings made with bricks are still enduring and available in different parts of the world. Once installed, they are set to stand for generations withstanding the weather and environment for centuries.
Bricks are cost-effective and eye-catchy
The materials required for brick construction are abundant and naturally available. There are several types of bricks; one of such is clay bricks. The abundance of the raw material required for producing bricks makes the process cost-effective. Their durability saves you money for a long time.
Brick homes are simply beautiful and eye-catchy. You're sure to get amazing compliments for your brick home. They're unique and could be created in different forms.
Easy maintenance is one of the pros of this choice of construction. For as long as 20 years, well-constructed bricks maintain their resilience. This is possible because of their color retention and durability. Their maintenance is inexpensive; what is required is regular washing.
Resistance to Fire
In recent years, fire has destroyed a lot of buildings. This has kept many in a sad disposition after the loss of their loved ones and invaluable properties. Amazingly, ancient bricks are fire-resistant. They are non-combustible due to the materials used in their production, clay is highly resilient and non-combustible.
Moreover, the resilience of bricks aids in enclosing fire in a portion of the building without circulating. Fire damage to bricks is very minimal and less destructive. Fire resistance is one of the amazing pros of this type of construction.
Lower insurance premium
Owing to their durability, insurance companies collect a far lesser premium for brick houses. They are fire-resistant, less destructive, and less susceptible to rots, dents, insects, and adverse weather conditions. Consequently, lesser premium rates are requested from brick homeowners.
Better temperature control and energy efficiency
Bricks have better thermal mass. This feature regulates the temperature of the building. They have a thick mass that allows for insulation and regulation of temperature. Temperature (heat and cold) travels slower through a thick mass. This better thermal mass feature saves energy and consequently reduces energy bills.
Environment friendly
Most bricks are made from abundant naturally existing materials like shale and clay. Consistent construction with bricks does not reduce the quality of the environment as these materials are abundant and reusable. This feature makes bricks environment friendly and considered natural.
They are the most eco-friendly construction material. Mainly natural gas and bio-based materials are used for their production.
Bricks can be recycled
Bricks are highly valuable, they can be recycled for other purposes. A typical example would be landscaping. This construction material can be reused for landscaping purposes like walking path, retaining walls, and so on. They could also be used as permanent landscape mulch after being chopped to pieces.
Brick Construction Cons
The following are the disadvantages of brick construction.
Time and labor-intensive
Brick constructions require a lot of time and labor for installation. Construction of bricks is a tedious process requiring more time and effort for production and construction. They may not be the best for a timely building.
Unstable quality
Just like every other natural material, the quality of every obtained brick is uncertain. The quality of bricks is unstable and differs across conditions. It is almost impossible to get consistent quality with bricks.
Moreover, the quality declines over time. With constant exposure to the sun, the natural color of bricks tends to fade away.
Bricks can be damaged by water
Often, clay bricks are susceptible to water. Bricks absorb water and this leads to a reduction in their quality.
Clay bricks absorption of water could lead to decay and growth of flowers. When bricks are not cleaned appropriately, they might absorb water and give off rough surfaces leading to decay and efflorescence.
Relatively expensive
The durability and installation cost of brick construction makes it relatively expensive when compared to other building materials such as vinyl.
Limited variety and color choices
Bricks appear in several colors and forms. Their appearance is determined by their composition. There are limited variety and colors to choose from as they come in their natural color. They're rarely painted.
The process involved in painting bricks leaves homeowners a better option of retaining its original color. Unlike other building materials that can easily be repainted to allow for variety, bricks retain their original color thereby reducing variety.
Bricks wear and tear
Bricks wear and tear over time and may require you to replace the pointing. This is called repointing. They are essentially durable but constant exposure to elements makes the mortar used to join them deteriorate.
Often, this is the case when the installation is not done appropriately. Repointing may be required occasionally to restore the bricks to their original value.
Rigorous cleaning procedure
Their thickness makes cleaning a stressful chore for the homeowner. Cleaning bricks is certainly not a walk in the park.
Conclusion
Regardless of the few disadvantages of brick construction, it is a great choice for durability, aesthetic, and monetary value. Most of the cons of brick construction can be checked with proper maintenance and installation.
However, if any of the cons deeply scare you and cut short your love for the beauty of brick houses, you might like to consider other choices like wood or vinyl.