I am a Kenyan blogger, I have been making money online since 2011.There was a time we were just 10 bloggers in Kenya and the online space was all ours. I used to post one article— about marketable courses in Kenya and it got up to 1 million page views. Nowadays bloggers are many and competition is stiff. We have since moved from the traditional way of posting sensational stories to helping Kenyans make money online. Besides Venas News, I also own several other blogs, including Fixusjobs which advises people on how to make money online.
The websites I am going to list below are those I have used before to make money online. I am a member of more than 200 affiliate programs, a significant percentage of my income comes from affiliate marketing. I also earn from sponsored articles and several other monetization strategies. There was a time I was earning from AdSense but I later dropped it because it was not generating enough—I was earning Ksh250,000 every month by then.
One thing most Kenyans forget is that bloggers are learned people. There was a time someone was dismissing bloggers, saying that they are desperate Kenyans who live from hand to mouth and are dependent on politicians for handouts. The truth of the matter is, some bloggers earn more money than a Kenyan MP. For instance, Ghafla earns over Ksh900,000 every month, Kenyans make over Ksh 1.5 million every month, the owner of this site earns over Ksh1 million every month. All those owning those websites are graduates, some of them with Master's qualifications. What am I trying to say? That being a blogger is not degrading yourself, it shows that you are ready to cut a niche for yourself as an individual who can do everything humanly possible to earn a living.
If you want to make money online, join the following 10 websites:
AdSense is the one almost every Kenyan blogger is using to make money online from. To get approved by this platform, you have to own a website. A capital of Ksh2,000 to Ksh 20,000 is needed for one to become a blogger. First, register a domain name and buy hosting package. I will refer you to Bluehost which has been serving me since 2011.To register a domain name,click on this link
Make sure that before you apply for AdSense, your content is original and unique, every article has over 500 words, your posts do not include adult content, use your own images, no gambling content and also use a Premium WordPress theme. Premium WordPress themes are obtained from Themeforest,click here to get one
If your site gets more than 1 million page views per month, you'll make Ksh150,000 and above monthly.
YouTube is also another credible website where you'll make money from in Kenya.To create a YouTube channel is free and to start making money is free.All you need is an email address which you will use to create a channel. You also have to create regular videos and upload on YouTube. After your channel gets over 1,000 subscribers, at least 4,000 hours of watch time and is 12 months old, apply for AdSense. Once approved, link it to your channel.
For every 1,000 views your channel gets, you'll earn approximately Ksh100.The more subscribers you have the more money you earn.
Almost half of the blogs in Kenya make money through MGID.In case you have a website and AdSense declines your application, apply for monetization from MGID.To make the application,click on this link
Even Venas News earns money from MGID—I recommend a company I am working with. If you open any post, you'll notice below it, there are adverts belonging to MGID.By the way, I have earned up to Ksh1.7 million per month from this company before.
22Bet is a website which is targeting gamblers. One can make a lot of money from this website. Personally, I make over Ksh300,000 every month from 22Bet.I bet excessively and also earn money through affiliate marketing. Below is a screenshot of the amount of money I made last month from the affiliate programe.If you want to join 22Bet,click on this link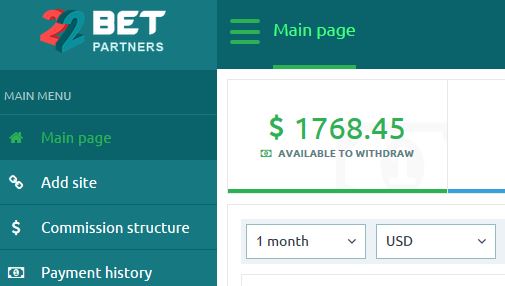 Their affiliate program pays 25%-45% of the total amount the customers you refer to their website lose.
Another site you should join is Jumia.I am also an affiliate of Jumia and ever since I joined them, I have earned more than Ksh3 million. Jumia offers commissions of 2%-13% per sale. You are allowed to market the company's products on social media or through your blog. Create a niche blog that you will use to review Jumia products. If you don't know how to create a blog,click on this link to contact HostPinnacle for the services
The company will register a domain name for you, offer web hosting services and create a niche blog. Your work will be to post content and make money from Jumia.
If you want to become an affiliate of Jumia,follow this link to visit the company's website
Betway will also enable you make money online through affiliate marketing or by betting on their website. To register for Betway,click on this link
In most cases, I use Betway to bet because it has huge odds, it also pays promptly.
Content.ad is famous for bloggers who major in entertainment, gossip, politics, fashion and news websites. If you own a blog and by bad luck you lose AdSense, join content.ad. I have earned money from this website before and I know it's a genuine one.
You can only make money from Content.Ad if you own a blog.
There are many people making money through Facebook. If you haven't made money from this social media platform, then you don't know anything. Make money by marketing your own products on Facebook, by doing affiliate marketing or by becoming an influencer. There are also several DJs making money through Facebook.
Kenya Website Experts offers affiliate programs for bloggers who run websites that advise people on how to make money online. Kenya Website Experts is the best web hosting company in Kenya.Since over 100 Kenyans register domains with this company every day,being their affiliate marketer will benefit you a lot.To get started,follow this link
Online Paid Survey companies
Companies like Triaba and iPoll are letting Kenyans earn money online by participating in online surveys. The payment is sent to your phone via MPESA once you complete a survey. To get started, search for all available paid online survey companies in Kenya and register with them. They will be sending survey questions from time to time.
There are several other ways you can make money online which we will discuss later. Good luck!!