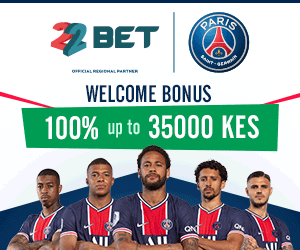 When you are a blogger, you either choose to make money through AdSense or affiliate marketing. In Kenya, betting companies offer the best affiliate payouts among the affiliate segments available in the country. Based on our experience, we are going to list betting companies with the best affiliate programs in Kenya to help you start making recurring income through your website.
I started monetizing with affiliate marketing in 2017 when AdSense failed to meet the minimum earning threshold for me. Since then, I have never looked back. During this period, the following affiliate programs have worked for me;
At first when I was approached by 22Bet staff, I thought I won't succeed in promoting the company's product, that was in 2019–they were also doubting my traffic. But two years down the line,I can say the affiliate program has been successful. I earn at least Ksh300,000 every month from the company and the money is steadily rising. If you want to join the affiliate program and start making money as well,click on this link
22Bet Kenya pays 25%-45% of the amount players who sign through your link loose. But the downside of this affiliate program is that there are negative earnings when players win.
I have also been actively promoting Betway through their partner program and it's been impressive. Betway pays every month through Wire Transfer. Initially, I was earning a commission of 25% but it was increased to 35%.In a good month,I can take home Ksh300,000.
You can promote Betway jackpots as well as football matches. To sign up for Betway,click on this link
What I love most about Betwinner is that they pay every week as long as you earn at least Ksh3,000.Their affiliate programs pays from 25% .To register for the program,follow this link
You can also promote 1XBET where you target Nigerian players.1XBET is wonderful betting company which does not charge tax like other betting sites. To start promoting them,visit their website through this link
You don't have to promote many betting companies, choose three of them and actively promote them to ensure you get enough subscribers. If you get 1,000 subscribers for every betting company, you'll earn over Ksh500,000 every month.