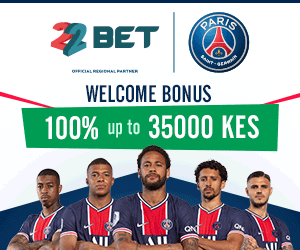 If you are looking for an online bookmaker that will provide you with all types of sports, then Parimatch TZ is the best option for you. This betting site is fully licensed and regulated by the government of Tanzania to offer services. Whether you are looking for pre-match or live betting options on popular sports like football, basketball, boxing, etc. you will find them here. Like other leading operators, you'll be rewarded with different bonuses when you play your favorite games. Other than sports, Parimatch Tanzania also offers different online casino games as well as virtual games. Join us, as we dig deep into the betting options available at Parimatch bookmaker.
Available Sports Betting Options
The following are some of the popular sports you can wager on at Parimatch online sportsbook in Tanzania.
Football
In soccer, all bets are settled at the end of the match (including extra time). The normal playing time of a football match is 90 minutes. Some of the selections you can bet on at Parimatch TZ include:
Who will score more goals
Double results
Halftime – Fulltime
Match Result
Number of corners
Number of yellow cards
Who will score the next goal
European Handicap
Ice Hockey
Like football, there are many types of bets available for Tanzanian punters to choose from. For instance, you can choose one team to win or draw in a match. Some of the available bet options include:
Come from behind and win
When will be scored first or the last goal
Who will score the next goal
Shots on goal
How many points will be scored
Note that bets are accepted on a computer game NHL and matches are played with game settings "3 periods by 3 minutes each".
Tennis
If you are a lover of Tennis, you will be happy to find that Parimatch offers a range of bet options to choose from. These are wagers offered on tennis:
Winner of the set
Correct score in sets
The handicap for the number of sets in the match
Amount of aces scored by a player in the match
Winner of the match
The score of the game
Who will win the first n games in the set
If at least one set is completely played
If the first set is not completely played
Baseball
Baseball is another popular sport available for Tanzanian punters to bet on. In the case where the match is unfinished for some unavoidable reasons like rain, the bets on the match winner are settled on the result at the time of interruption. Some of the bet selections available include:
Total bets
Handicaps
Number of extra innings
Number of shutouts
Home-Away
Basketball
Wagers on basketball are settled with overtime included in case of a draw during the normal scheduled time. Some of the bet selections you can place at Parimatch include:
Total bets
Winner of the first quarter
Scorer of the first second quarter
Number of points in the third quarter
Performance of players
Volleyball
To beginners, 1-4 sets in volleyball matches are played to 25 points, unless indicated in the line. The following selections are available for Volleyball matches:
Total of a match or set
To win a match or set
Handicap in the match or set
Winning team in a match
Exact score of the match
Golden set
Formula 1, NASCAR, MotoGP
The following wager is offered for Tanzanians at Parimatch sports betting site:
Wagering on the winner of the race
Finish – Not Finish
Fastest Lap
Who is higher
Which team is better in a race
Bet on the winner of the qualification
E-Sports
All bets in e-Sports are settled based on the general rules of playing. Some of the popular games you can bet on at Parimatch TZ include:
Counter-Strike: Global Offensive
Dota 2
League of Legends
Starcraft 2
HearthStone
Overwatch
World of Tanks
PUBG
Dota 2. Auto chess
Virtual Sports
There are lots of entertaining virtual sports you can bet on at Parimatch TZ sportsbook, including:
Virtual football
Virtual basketball
Virtual tennis
As earlier mentioned, Parimatch Tanzania is not only limited to offering sports betting options but you can also play different online casino games. Some of the top played variations include slots, blackjack, roulette, baccarat, and jackpot games.