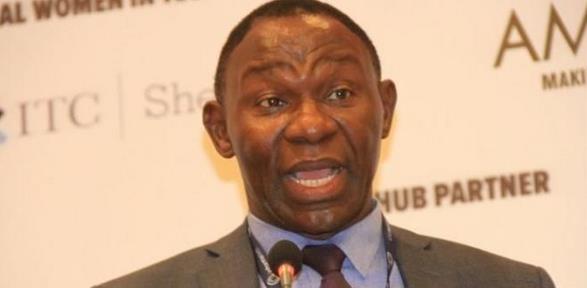 Here is a story of Bitange Ndemo,former Minister who lost his job following the retirement of President Mwai Kibaki.
Bitange Ndemo was a force to reckon within the fast-moving Information, Communication and Technology (ICT) sector, with years of experience under his belt, helping develop a roadmap of the country's digital transformation.Ndemo, however, did not have it easy after he lost his Permanent Secretary job, recounting how his friends deserted him in his lowest moment, and how frustrated he was after the calls stopped coming in."My phone went silent when I was fired, I then realized that I did not have friends, they were just my colleagues," he stated in an interview with a local TV station.
Ndemo wears many hats as he is an ICT champion, an academician and newspaper columnist with the Kenyan newspaper Daily Nation and its sister publication, the Business Daily.The Kisii-born visionary took up teaching, which became his saving grace, currently as a Professor of Entrepreneurship, at the University of Nairobi's School of School. His works focus on ICT within small and medium enterprises and their influence on Kenya's economy.Ndemo is among the pillars on which the Kenyan ICT sector stands. During his stint as the Permanent Secretary in the Ministry of Information and Communication, he championed policies that facilitated the installation of undersea submarine cables, the reduction of mobile transformation rates(MTRS), the initiation of The Kenyan Open Data, and the growth of tech hubs such as iHub and mLab in Kenya.
The former PS recounted the challenges that he had to overcome when he assumed office in 2005 under President Mwai Kibaki, noting that Kenya was just beginning its exodus to digitization."I faced strong resistance from various ministries in the move to digitize government data, as I had promised to provide access within 30 days," he stated in an interview with an international publication."I had to hurriedly assemble a team, pressuring ministers to open their data, I had to secure presidential support all for the successful launch of the Kenyan Open data portal," he remarked.In 2006, he received the prestigious presidential Chief of the Burning Spear of Kenya (CBS) award for his distinguished services to the country.
What many may not know about the no-nonsense professor is that he is an excellent storyteller, with top-notch oratory skills that will leave you cracking up and yearning for more.It is then fitting to say that he is a pillar of innovation, as his efforts have given rise to what we now enjoy in terms of digitization of government data, fast internet, and money transfer services. Former Minister for Information Samuel Poghisio (left) and former Permanent Secretary Dr. Bitange Ndemo (right) hold a huge buoy as President Kibaki (second right) looks on, and Prime Minister Raila Odinga (second left) at the Fort Jesus seafront on June, 12 2009.