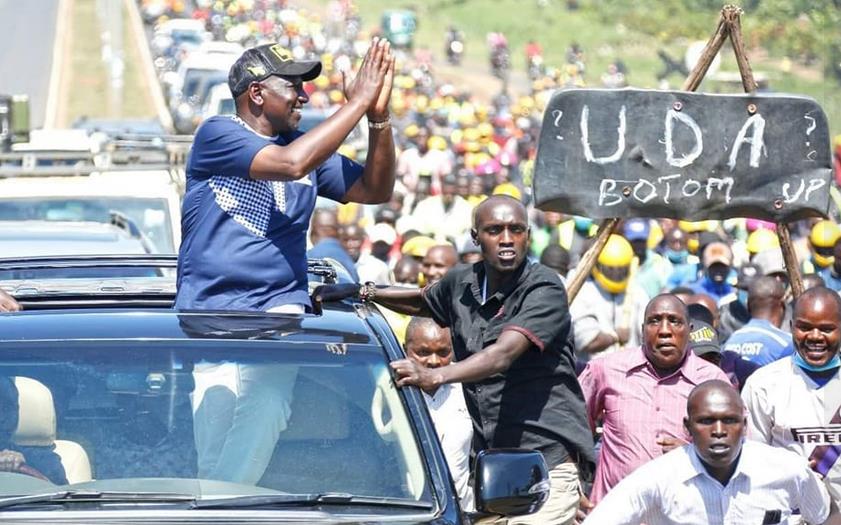 DP William Ruto and aspiring Presidential candidate has opened his mouth for the first time after being heckled in Kisii.The DP was furious following heckling and name calling from thousands of youths. The incident happened in remote parts of Kisii.Yesterday,he was again heckled in Laikipia by more than 1,000 youths led by former Mungiki leader Maina Njenga.Following the two incidences, the DP has wrote a letter to the youths. Here is the letter:
"𝐓𝐎 𝐓𝐇𝐄 𝐘𝐎𝐔𝐓𝐇 𝐎𝐅 𝐊𝐄𝐍𝐘𝐀: 𝐂𝐎𝐌𝐄, 𝐋𝐄𝐓 𝐔𝐒 𝐑𝐄𝐀𝐒𝐎𝐍 𝐓𝐎𝐆𝐄𝐓𝐇𝐄𝐑.
Kenyans are by now aware that for the past couple of days, small groups of youths have been deployed to heckle and generally conduct themselves in a disorderly manner during our engagement with the people.
I commend all the people who were in our events for showing maturity and restraint in the face of such provocation.
We in the Hustler Nation have an agenda to make Kenya a society that accommodates, supports and benefits everyone without discrimination, because we desire that every citizen realises their aspirations. We welcome everyone to walk this journey with us, in order to build a prosperous, free and united country from the grassroots, at the very bottom, upwards. Within our borders, plenty of opportunities as well as rewards for everyone exist.
We have in the past addressed the question of youth involvement in our democracy and processes of governance. I am not satisfied that we are anywhere near involving the youth meaningfully and optimally in our political and policy discourses and engagements. The biggest stakeholders of our present and future, the holders of this nation's promise remain effectively marginalised despite their great numbers and even greater potential.
The youth are disproportionately burdened by all negative outcomes of the current top-down governance: poverty, unemployment, inequality, injustice, police brutality, extrajudicial killings and diminished access to opportunity.
Conversely, they are equally poorly represented in leadership and opportunities to meaningfully participate in positive change and governance.
The Hustler Nation identifies significant youth empowerment as an urgent priority and key commitment of the bottom-up policy and political framework. The youth are drivers of a dynamic, future-oriented, opportunity-focused movement aimed at empowering Kenyans in their millions.
It is no surprise that those driving exclucive top-down model of governance find no place for youth, except to deploy them on retrogressive errands as witnessed in some of our meetings including today's successful tour of Kisii County. This active marginalisation of the youth is a characteristic of the old regressive order that has frustrated Kenya's progress and extinguished countless opportunities to achieve meaningful prosperity.
I call on the youth to shun divisive activities and political errands aimed at further marginalising them and setting them up for blame and sanction.
I invite all youth to seize this moment and come forward to take up their rightful place in this journey to a better Kenya. It is an invitation, not to fight or quarrel or heckle or riot, but to reason together on the best way to secure a prosperous future for Kenya that leaves no one behind. Likewise, we tell the law enforcers that as long us they are not going to charge the sponsors of this primitive activities, the young people should be spared from the unnecessary harassment and prosecution. 𝐑𝐞𝐥𝐞𝐚𝐬𝐞 𝐭𝐡𝐞 𝐲𝐨𝐮𝐭𝐡"