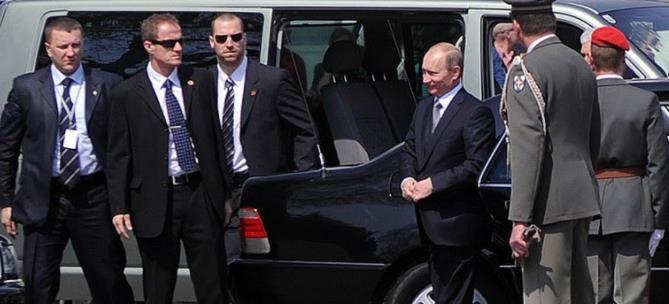 Below is a guide that sheds light on some of the most protected global leaders.
· Vladimir Putin
Presidents are among the most protected people globally due to their positions as political figures; therefore, they are prone to harm. Vladimir Putin is the most protected president, and Russia's Federal Protective Service is in charge of his safety. There is little information about the operation of Putin's arm in the Federal Protective Service. It is hard to access his public data and reports about his workings in that people only make assumptions about what they do.
· Kim Jong Un
Kim Jong Un is famous for his dictatorship. His protection is crucial for him to go about his day while being constantly paranoid about his competitors within the circle of power and assassination attempts. His security detail has a 100,000-man army with a command structure that directly reports to him. The unit is known as the Supreme Guard Command, and it is hard to notice them as they always disappear into the spectacles and backgrounds.
· Queen Elizabeth II
Being the longest sovereign, her career has been remarkable so far. This was made easier by the Royal Guard, who are responsible for her protection. The Royal Guard consist of foot guards that patrol the royal residences' parameters and the soldiers that wear those tall bearskin hats and red tunics throughout the years. Her security spending was very expensive in that in 2010; it was estimated to cost around 100 million British pounds annually.
· Pope Francis
Pope Francis is the most protected religious leader globally as he is the head of the Catholic Church, and in all respects, he needs utmost protection. He resides globally in heavily armoured cities, including Rome, Italy, and Vatican City. The Pope is safeguarded by all the stoic guards with equally dated spears. The high-end military force can also use the finest collection of arms if necessary.
· Donald Trump
The billionaire is known for being a one-time president of the United States and for his love for security. With hundreds of businesses, his wealth and net worth are estimated to be about 2.5 billion dollars, which shows why he needs protection. In addition, his former position as the president of the United States broke the record that made him appear on this list as his security on that term was approximated to be $29 million.
· Mohammed bin Salman of Saudi Arabia
The crown prince and his family are among the world's wealthiest people through the state of the oil firm. Despite making foreign enemies the Saudi Aramco, bin Salman has centralized the strength of his military since coming to power. He has invested over $20 billion in military equipment for the last two years. His military and security agencies comprise of 1000-person strong security team.
· Xi Jinping
The Chinese President, Xi Jinping, is another influential and controversial head of state. The central security bureau is secretive about its internal functions and is responsible for Xi Jinping's security. The unit uses a network of drones, helicopters and armed guards who are expected to be 5000 strong to focus on the central security office and cybersecurity who are perceived as threats.
· Alpha Conde
Presidents are known to have tight securities, and Alpha Conde is not new to this trend. The president of Guinea is among Africa's most protected presidents. For both his international and national missions while in public, he has a bodyguard entourage made up of more than 20 bodyguards. On outdoor appearances, a high-speed land cruiser and more than ten fast-moving motorcycles are the rest of his accompaniments.
· Shinzo Abe
Being one of the world's top leaders, Shinzo Abe is widely known to be accompanied by bodyguards even when he visits the shrine. His security staff of 9,000 people usually accompany him during his foreign trips. The prime minister's motorcade never slows down, even if theirs is traffic. His security detail will do anything to change a lane.
· Recep Tayyip Erdogan
Turkey's president security detail is one of the most hardcore. He has a loyal 60-man bodyguard referred to as 'Mustacheers'. Also, his history when he visited Greece shows in detail his security council. Approximately 100 Turkish security officials and 3,000 Greek snipers, cops and agents accompanied his 60-man loyal bodyguard all over Athens.
· Vladimir Lenin
Surprisingly, you don't have to be alive and breathing to be important and worth defending. Vladimir Lenin's resting place is located in Red Square in Moscow, Russia. The former Soviet leader's body has been protected 24/7 for 95 years and is still to date.
· Mark Zuckerberg
Facebook is among the best performing social media platforms, and nothing can be a mystery anymore, including the CEO's personal security budget. Since 2015, Mark Zuckerberg has spent around $20 million on his security. $7.3 million is for his private bodyguards for travelling and home. Sixteen full-time guards have also been reported to work in shifts at all times for his supervision. The bodyguards are also known as 'Zuckerberg secret police.'
· Uhuru Kenyatta
One of the topmost protected presidents in Africa is Uhuru Kenyatta. His protection measures in and out of the country consist of an armoured land cruiser, his presidential car, a convoy made up of several fast-moving expensive cars, Range Rovers, Mercedes Benz X class and more than ten speedy motorcycles. His arrival on public and special occasions speaks it all. His security team is first-class.
· Prince Harry and Megan Markle
The happy marriage of this royal couple before renouncing royalty was undoubtedly the most protected couple that ever existed. The people involved in their safety were estimated to be about a thousand people. $4.7 million was the estimated amount of money that was spent on the royal couple's wedding policies. Moreover, during Prince Harry's diplomatic trips, he had carefully selected security personnel for his safety.
· Joe Biden
Being a president in the United States automatically puts you at the advantage of having a security team for your protection. The president has one of the most organized, well trained and powerful security detail identified as the secret service. The secret service is famous for its black suit, earpiece, red tie and sunglasses. Highly experienced military members and world-class Navy seals are also part of the unit.
· Floyd Mayweather
Floyd Mayweather Jr. is the most protected athlete on earth. He is one of the biggest stars for this lucrative sport, and he is estimated to be worth $500 million. Floyd flaunts his lifestyle over social media from luxurious mansions, jewellery and sports cars. Floyd's security consists of eight gigantic security guards, with some over two meters tall and over 180 kg.
· Hassanal Bolkiah
Hassan Bolkiah is the current Sultan of Brunei, one of the few countries that do not consider themselves a democracy. Bolkiah is the president of Brunei, and in 2006 he amended the constitution-making him infallible under the law. He holds many portfolios to his name, and he is the Minister of Defense, Foreign Affairs and Finance. He is super rich and has heavily invested in his protection, including an elite security guards team, high-speed motorcycles, and the military.
· Benjamin Netanyahu
Benjamin Netanyahu is the prime minister of Israel, and he is a controversial leader supported by the US. Thanks to its iron fist ruling system, Israel is a stable country, which a well-equipped military has supported. Israel showed its strength using the Iron Dome that destroyed short-range rockets and artillery shells. Netanyahu's security detail is top class due to its technological advances.
· Park Geun-Hye
Park Geun-Hye is the president of South Korea, and she is the country's first female leader. Among the most developed countries, South Korea has the highest level of gender inequality, and she had to overcome lots of constraints to be the president. Park has shown incredible efforts to diffuse threats from North Korea by making them abandon their nuclear-weapons program. Park has heavily invested in the military, and she has tested missiles to their long time enemy North Korea.
· Ali Khamenei
Ali Khamenei has been the authoritarian leader of Iran since 1989, and over the years, he has been opposing Western Influence in his country and the Middle East. Khamenei has invested millions of dollars in his military, making Iran one of the strongest militaries globally. Khamenei is heavily guarded, considering he has a nuclear program, making him a prime target by the world powers.
· Dilma Rousseff
Dilma Roussef was the first female president of Brazil, and she tried eradicating poverty in her first term in office. At the beginning of her tenure, she was loved by the people, but her rule was later marred with protests. Her protection proved their worth by keeping her safe and protecting her amidst a series of fatal protests.
· Narendra Modi
He is the prime minister of India, and he has been introducing initiatives to improve the lives of 1.2 billion people. The 'Indian Protection Group' is responsible for keeping Mr Modi safe, and they are an elite group of security guards. Whenever he visits, he is proceeded by a fleet of motorcade, air drones, and helicopters, ensuring his safety when he is on the move.
· Angel Merkel
Angel Merkel has over years of experience as the Chancellor of Germany. She is a strong and indispensable world leader who has overcome unlimited challenges in her tenure. To achieve she is heavily protected with elite German guards, her security incorporates advanced tech, and it is a force to be reckoned with. To help you understand how well she is protected, she stood up against Putin, and currently, she's managing Europe's refugee crisis.
· Bill Gates
Bill Gates has many titles to his name, with the common one being he is considered among the top three richest persons in the world. He has been a household name since he founded Microsoft company, the world's most profitable software company. He has experienced several attacks which made him spruce up his security. He designed a new office with numerous security details to ensure his safety, such as bulletproof walls and windows. To reach their bosses, workers need security clearance which makes it extremely difficult to reach them.
· Boris Johnson
Being the Prime Minister of the United Kingdom, Boris Johnson is a well-known name for making the headlines. The UK has a strong protection system for the queen, which has been stretched to the PM. His security includes high-speed motorcycles, over 20 elite security guards, helicopters and other security details that are beyond our reach.
· El Chapo
Hawkin Guzman is famously known as El Chapo, and he is the leader of the Sinaloa cartel. He was imprisoned severally, and he avoided his incarceration through unscrupulous means. After being arrested in 2016, he lives in Manhattan, New York's 10 South Jail. He is guarded for 24 hours by armed guards who other armed guards watch over. Every night, he does not sleep in the same cell, and he has dogs that have to taste his food in the event of poisoning.
· Jay-Z and Beyonce
Jay-Z and Beyonce are the most protected celebrity couple, which comes after numerous attacks by rogue fans. Jay-Z ramped up his security for millions of dollars by recruiting new personal security guards, about 15 guards. A part of their security detail is two bomb-proof Latvia SUVs, an $88 million personal security for their Los Angeles mansion. This renovation will include a 10-car carport two-car garage, among other details.
· King Mohammed VI
King Mohammed VI is one of the most protected leaders in Africa and the world. He has been the leader of Morocco since 1999, and his security convoy is one to watch out for. He has an Armored Mercedes 600 Pullman, numerous Mercedes bens 500 and Range Rover models for mountainous terrains. Other components of his security are high-speed motorcycles, an ambulance and a BMW S series with a communications hummer. Being the richest president in Africa, his security costs nothing to him.
· Buhari Mohammed
Nigeria has the largest population in Africa, and their president Mohammed is well known for how he is protected. The main reason is his safety and protection means a lot to the people of Nigeria. His presidential Motorcade is a sight to behold because it is one of the largest and most impressive. It normally consists of high-speed police motorcycles, numerous presidential guards and the military. His guards are always present on official assignments in and out of the country.
· Abdel Fattah El-Sisi
Abdel Fattah El-Sisi has been the president of Egypt since 2014, and through the years, there have been numerous unrest in Egypt. He rides on a 2013 Mercedes S class, and his country is among the few countries with the best military. He is always guaranteed utmost protection thanks to more than ten bodyguards, a presidential motorcade consisting of high-speed motorbikes, armoured vehicles and land cruisers.