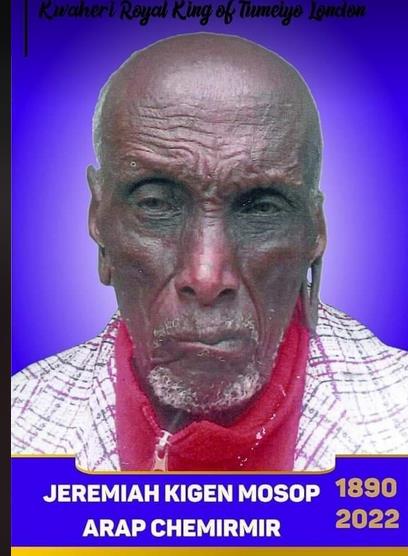 Arap Chemirmir wasthe oldest man on earth,he died aged 132 year.the little known hero died in 2022.
Here is the story of the forgotten Kenyan man:
OBITUARY: ARAAP CHEMIRMIR
Jeremiah Kigen Araap Chemirmir (1890 – 2022.)
"The Royal King Of Tumeiyo London".
At 132 years he was most likely the oldest person on earth.
When he was born no railway existed in Kenya, Koitalel was the Orkoiyot of the Nandi. The ageset in power was Kaplelach.
When he passed on a century later the world was a different place.
He saw the white man arrive, the Nandi resistance, the first airplane, the arrival of colonialists, Poriet-Ap-Talian, poriet-Ap-Jerman, Kenyan independence and more. Heck!, he was 34 years when President Moi was born.
He is probably the only person to see 3 generations of an ageset. When he was young he probably saw the last Maina ageset of 1700. He was initiated into Maina Ageset and in his twilight years the Maina were about to be initiated.
Jeremiah Kigen Araap Chemirmir was born around 1890 at Katkok Kaben, Tumeiyo Location within Elgeyo Marakwet County.
He was the third born child of Mantulwa Limo Kimosop and Soi Limo. He was born pre-maturely as his mother had fallen sick before term. The midwives tending to him thought that he wasn't going to survive and since burial rites weren't perfomed then, he was thrown to the bushes.
His Aunt, the wife of Kipkalya however rescued him and took him home but since his mother was unwell, Toiyo nursed him until his mother got better.
He was named Kipkios and kipkesei and later Kigen for he grew slowly. He never suckled. Kugo however bought this early setbackto lead a normal productive life thereafter.
With the construction of railway line in 1900-1918 there about many adults(Nyongi/Maina age sets) were employed as casual labourers, they were required to pay poll tax and hut tax.
Their work was interfered due to the 1st world war and they had no income to pay taxes, since it was mandatory for every adult to pay poll and hut tax, majority of youth resolved to steal livestock and sell them at Kipkabus, Chepkorio and Kaptagat Markets, so that they continue paying tax, they travelled to Laikipia Marmarnet, Cherang'any, west Pokot and Sabaot in Bungoma to raid livestock .
In 1922, The Keiyo Community were evicted from 328 square miles of forest which was alienated to ESM Grogan Ltd. ,the area allocated to them was small and this made their animals vulnerable .
This loss was deeply resented by Keiyo. One day livestock belonging to Kipukan (Van den heyder), who was residing in Waunifor were stolen and several murders settlers including settler bombo- of "kwek chesebet ak Bombo".
This necessitated uasin Gishu farmers Association, colonial administrators of Elgeyo Marakwet and Uasin Gishu districts to converge at Sergoit for security meeting, setllers elected Major Parker Toulson, a army officer as their president, at the meeting several issues came out of the discussion and all pointed out to "lawlessness of the natives".
They resolved to issue Rifles and 300 rounds of ammunition to each settler.True to its policy of using force to obtain African acquiescence, the British colonial administration retaliated against the Keiyo and Marakwet by sending an expedition under Lt. Llyod Jones in 1926.
The colonial administraion further demanded that all the Keiyo leaders and elders assemble at Bombo near Kaptagat, where a peace treaty was to be imposed. First of all, the Keiyo had to swear never to challenge colonial authority or the settlers. The swearing is reported to have gone thus:
"Kwek, kwek Chesebet ak Bombo" ("Never never at Chesebet ak Bombo).The congregation had to say this in chorus.
In addition, the Keiyo had to surrender their weapons, bows, arrows, spears, and shields to the colonial administration. They were further required to forfeit all stock that had been confiscated.
They were informed that the whole community would be punished if any of their members raided cattle from European farmers or any of its neighbours again Several adults of Maina age sets were captured,it is during this expediton that Kigen Chemirmir was captured and taken to Kamiti prison and jailed between 1925-1932.
He went to Tambach in 1934 at the age of 44years where he was recruited as a Police Officer and a mail runner. Under the District Commissioner Elgeiyo Marakwet.His Second jail was in 1941 at Simotwo, he had been accused of a raid and engaging in serious fight with Mzungu, a gazette notice was issued and bounty offer of Ksh 250/-.
He was detained at Shimo la Tewa prison but lady luck smiled on him and he was taken to Kamiti Maximum prison. At the time serious crimes offenders were taken to Shimo La Tewa for manslaughter.
On his arrival at Kamiti, he met a judge a European who gave him linient sentence, he made him finish the two years he had escaped from prison, before his arrest and detenion several posters had been circulated across Elgeyo Marakwet leading to his arrest.
He was jailed for two years, Upon his release in order to curb further raids he was appointed headman of Tumeiyo London a posi