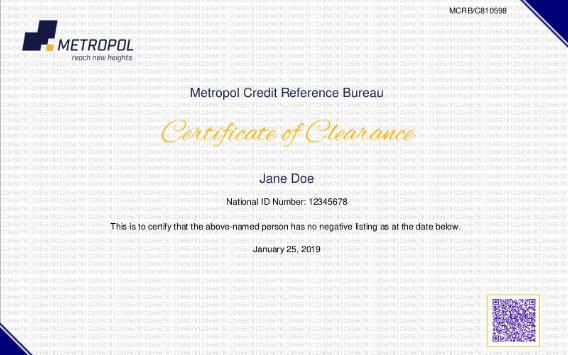 There are many ways in which you can check your CRB status online through your phone in Kenya. By checking your CRB status, you'll know which steps to take to clear yourself from CRB or to continue in applying for a loan.
With bad CRB report, you may find it difficult to get any loan because most of the institutions offering loans share information.
Below is how to check CRB status online on phone in Kenya:
How to check your CRB status through Transunion credit reference bureau CRB kenya
Send your full names to 21272
Enter your ID number
Choose CC (meaning Credit Status)
Receive your CRB status.
CRB Credit report in kenya – pay ksh650
CRB Clearance certificate in kenya you pay – ksh 2200
How to Check your CRB status with Metropol CRB
Steps
Dial *433# on your mobile phone using Safaricom line
Enter your National ID Number
Enter an agent number if you were referred by a Metropol agent else enter zero (0) to proceed
Confirm your details to complete the registration process
Pay Ksh 100 as registration fees through the Pay Bill number 220388 and use your National ID number as the account number.
You will receive an SMS with Crytobol PIN, a Reference Number, and a Link to access your credit report.
Visit the Metropol website through the link provided and enter your phone number and reference number to download your credit report.
How to Check CRB Status through SMS Code 433
This is the best and easiest way of checking your CRB status because you don't have to download any app. It laso recommended by Huduma Kenya. However, this method is not free. It will cost you ksh. 100. Below is the procedure;
Dial *433#
Enter you ID number (that you used to register the phone number/mpesa)
Use agent Code: 222000
Confirm Details
Pay to Complete Registration
To Pay, Go to Mpesa and Select Lipa na Mpesa Menu, then Paybill
Business Number Enter: 220388
Account Number: Enter your ID
Enter ksh. 100
The send
Checking CRB status on CreditInfo
CreditInfo also helps you to check whether you are listed with CRB or not.The fees to be paid annually is Ksh350 and online application fee is Ksh50.
Section
Explanation
Personal Profile
Your name, address, ID number, date of birth and employment information are used to identify you.
Performing Accounts
Loans that you have taken and still repaying without any default history. It impacts positively on your credit score.
Performing Account with a default history
A loan that you defaulted and later repaid/ you are still paying.
Although updated as cleared or closed, the default information will remain in the credit bureau for 5 years from the date of final settlement.
Non Performing Account
A loan that you have defaulted (90 days) and is still outstanding.It impacts negatively on your credit score.
Enquiries
Shows which lenders have checked on you and when you applied for a loan/credit.
Credit Bureau score
It is 3 digit number (at the top right hand of your report) that lenders use to evaluate your probability as a borrower to repay a debt or loan if granted. The higher the score the better
You have to borrow to get a credit score. Always check your credit score before you borrow.
It's always important to avoid mobile loan because they are as addictive as taking alcohol. Once you start taking such loans, you'll never stop. You can only take the loans during emergency cases.