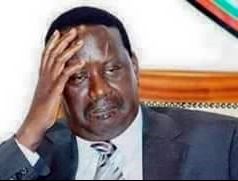 Njeri Kinuthia Hinga has listed all the scandals Raila is directly or indirectly involved in.Nobody will ever mention these scandals but brave members of the society have unearthed them.
Here is the list of all scandals:
1. Collapsed Mumias Sugar Company- stole over 2.3 Billion lost.
2. Collapsed Kisumu Molasses Plant – used Canadians and his company Specter International -2 Billion lost.
3. Tax Evasion Scandal – Mombasa Ports-100 Million stolen.
4. Triton Scandal Oil – Used businessman Yagnesh Devani & Kenya Pipeline Company- 7.6B stolen.
5. Kazi kwa Vijana – USAID funding-stole over 300Million. Over 1 million youth affected.
6. Bankrupted KQ by shutting down KK and awarding to Astral Aviation Limited, a company that is associated with the ODM leader-800 Million stolen.
7. Goldenberg Scandal – Worked with fraudsters. 600 Million lost.
8. Selling illegal ethanol using his company Spectre International Limited – over 400 Million lost. Same ethanol used to make illicit brew that has killed thousands of Kenyans.
9. Used Pan African Petroleum Company and created partnership with Arabs ( Libyans and Saudis) to import oil through his Petroleum Company – 3 Billion stolen.
10. Sudanese Oil Scandal – coordinated with Japan/China – 3.8 Billion lost.
11. Brokered sale of Grand Regency Hotel to "Libyan investors" in 2008 sold for 2.5B (media figures), actual sale 7.5 B – Stole 5.0B.
12. Maize Scandal – Used Bulk Grain Handlers in Mombasa, made over 5 billions of shillings out of some relief cereals from South Africa.
13. "Acquired" state-opened 240 acres Kisumu Molasses Plant for 3.6 million shillings. Stole property from Kenyans.
14. Sale of Kisumu Molasses plant to Canadian firm – Odinga family paid 500 Million to relinquish ownership.
15. Shady "cheap" oil import deals with Al Bakri international when Odinga was Energy Minister- over 5 Billion lost.
16. 300 million paid by Libyan oil fraudsters during 2002 NARC campaigns.
LIST OF RAO LAND GRABBINGS:-
Grabbed land for Ramogi Institute in Kisumu.
Grabbed Kenya Airports Authority land in Bondo.
Grabbed 600 acres of NYS land in Yatta, Machakos county.
Grabbbed Opondo Farm – piece of land in Bondo "earmarked" for building an airstrip.
Grabbed prime land in Malindi 7 acres.
Grabbed 400 acres land in Lamu and Tana River counties during the 2008-2013 Grand Coalition government.
Grabbed 240 acres land where a Kisumu Molasses Company sits and transferred to Raila's company, Spectre International Ltd.