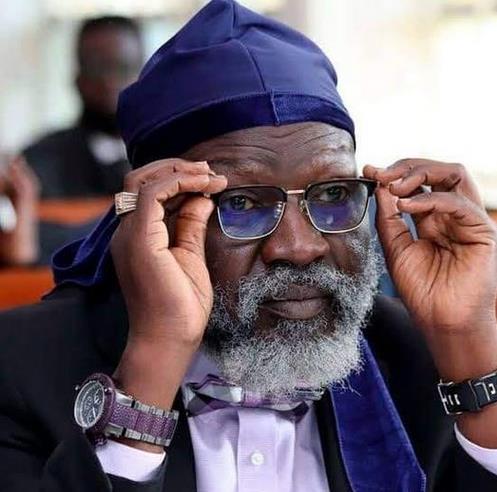 Prof. George Luchiri Wajackoyah is among the most educated Kenyans,he holds a total of 17 degrees.He is among 4 presidential candidates for 2022 elections.The professor is advocating for legalization of Bhang in order to offset the debts which Kenyan owes other countries.
𝐖𝐡𝐨 𝐞𝐱𝐚𝐜𝐭𝐥𝐲 𝐢𝐬 𝐖𝐚𝐣𝐚𝐜𝐤𝐨𝐲𝐚?
The 61-year-old professor was born in Matungu in the western part of Kenya. Unfortunately, his parents divorced and abandoned him at the age of three. Frustrated and in a quest to find his mother, Wajackoyah went to Busia, with an aim of travelling to Uganda, where it was claimed that she had moved to.
But he was unsuccessful in his bid to reunite with his mother. He met many challenges along the way. But he also met strangers who were willing to give him a helping hand.
With nowhere to go, Wajackoyah moved to Nairobi where he spent years on the streets of Nairobi, roaming around with other boys who were also homeless before a well-wisher rescued him.
He was lucky when the then Education Minister, the late Joseph Kamotho, was informed of his plight and helped pay his school fees at St. Peter's Mumias Boys High School for his A-levels.
Wajackoyah then got the chance to study Law at the University of Wolverhampton in the United Kingdom where he graduated in 1996.
He graduated with a master of law in development from the University of Warwick in 1998 and a master of laws (us law) in 2006 from the University of Baltimore.
He has also taught law and economics, human rights, and comparative constitutional and international law at US, UK and Kenyan universities.
Wajackoyah is the founding partner of Luchiri & Co Advocates and has practised law for at least 25 years.
Like his campaign, Wajackoyah's post-election plans are equally unconventional. If elected president, the lawyer is pledging to create eight prime minister positions in his government, suspend the constitution for six months, change working days to Monday through Thursday, and clear Kenya's loans through sale of marijuana.
Wajackoyah, who is running on a Roots Party ticket has named Justina Wambui Wamae as his running mate.
Below is the list of degrees owned by the professor:
1. Ph.D. at Walden University
2. Studied Post Graduate Diploma in Law at Kenya School of Law
3. Studied Masters in Law of USA at University of Baltimore
4. Studied Masters of Law (LLM) at SOAS University of London
5. Studied Master of philosophy at Walden University
6. Studied Masters of Laws in Law in Development at University of Warwick, UK
7. Studied Bachelor of Laws at Universities of Wolverhampton (UK)
8. Studied Advanced Diplome in French at University of Burundi
9. Studied Diploma in French at Kenya Institute of Administration
10. Studied Economics & Refugee law at World University Service united Kingdom
11. Studied Laws of Kenya at Riara University
12. Studied Postgraduate Diploma at Maastricht University
13. Studied Legal Practice Course LPC at University of Westminster, UK
14. Studied Certificate in Comparative Laws at University of London School of Oriental & African Studies (SOAS)
15. Studied Criminal/Civil Litigation at American Heritage University of Southern California
16. Studied Security & Intelligence Studies at CID Training school
17. Studied Policing and Criminal Investigation at Kenya Police Training College, Kiganjo.