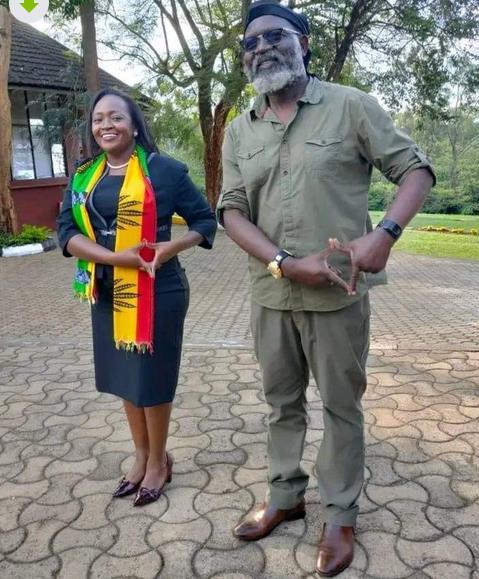 Roots Party Wajackoyah has a beautiful running mate, she is among few Kenyans women advocating for legalization of Bhang/marijuana.Justina Wangui Wamae was picked by George Wajackoyah after a rigorous exercise of identifying a suitable running mate.
Justina often adorns a scarf with Rastafarians' signature colours of red, green and gold, along with the 'weed' plant drawn.
She has previously said that she wears the scarf as a way to make her unique and identifiable, saying she does not use bhang, but vouches for use of the pure form for medicinal use.
But away from her bid for the second highest seat in the land, just who is Justina?
Justina is a 35-year-old businesswoman who has been in the excavation industry and supply of building materials.
She said her work in the excavation field has earned her the name 'ndorologist' after the Kikuyu word 'ndoro', which means mud.
Justina graduated from Daystar University with a Bachelor's degree in 2010 and has a Master's degree in procurement and logistics from Jomo Kenyatta University of Agriculture and Technology (JKUAT).
Justina recounted to Citizen Digital how her parents took out loans to ensure she pursued her education.
"It was quite costly… my parents believed that education is the key to success… they would take out a loan here and there," she said.
Justina said she has never been employed since she graduated.
"I've never been formally employed. When I went to university, my vision… I used to fantasise about buying a Toyota Platz after graduating…. I thought I would leave home, rent out my own place and buy a Toyota Platz as that time this was the popular car, alongside the Vitz, but it never materialised…" Justina told Citizen Digital.
Justina first entered politics in 2017, when she unsuccessfully contested for the Mavoko parliamentary seat as an independent candidate, garnering 1,200 votes.
She is married and has a three-year old daughter.
"My husband has given me permission to do this (to be a running mate)," she said.
Justina has insisted that she is not advocating for a 'stoned' population, but rather use of marijuana for medicinal purposes.
"It (marijuana) has two components. We will use KEPHIS and KEBS will identify what we want without the psychoactive ingredient (which makes people high)," she said.
If the Roots Party wins the Presidency, Justina will be the first woman Deputy President of Kenya.However,opinion poll places Wajackoyah third, after Raila and Ruto. His total votes won't exceed 500,000.