Frank Obegi is one of the four men whose bodies were found in Kijabe Forest. The popular blogger and Twitter bigwig disappeared from his home a week ago. His body was found rotting while private parts shopped off. He had several body injuries.
"One of them had been partly eaten by wild animals. Their private parts had been amputated and it seems they died through strangulation. They had no identification documents and were naked," Mr Furaha told Nation.
Sources claim that Obegi was among Cryptocurrency scams in the country where they used to hack accounts for unsuspecting clients,buy Bitcoins through the money ,then send it to their relatives in USA and other countries abroad. They will then sell the Bitcoins and send money back to Kenya through Sendwave.
The likes of Obegi lived large by spending ill-gotten wealth. In a weekend he could squander more than Ksh200, 000.He also loved women.
Before the fateful day,he had received threatening messages from people he allegedly scammed. One of his Tweets read:One day we'll leave this world behind,so live the life you'll remember.
Rumours has it that he had scammed one of his victims Ksh 1million,the money he flossed with. The victim told him,"we shall see!".
Here is how some of his friends describe him: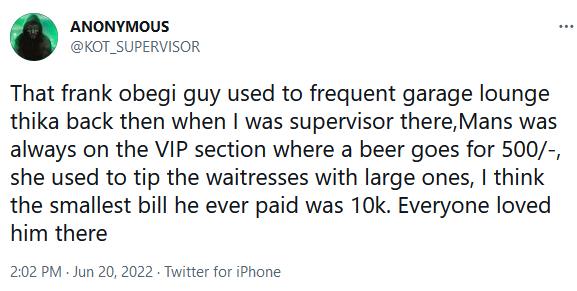 Frank is a Kisii,one of the youths who were living large in Nairobi.He will be buried soon.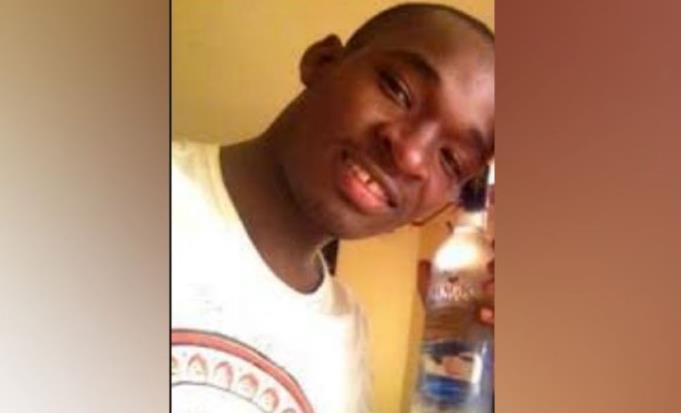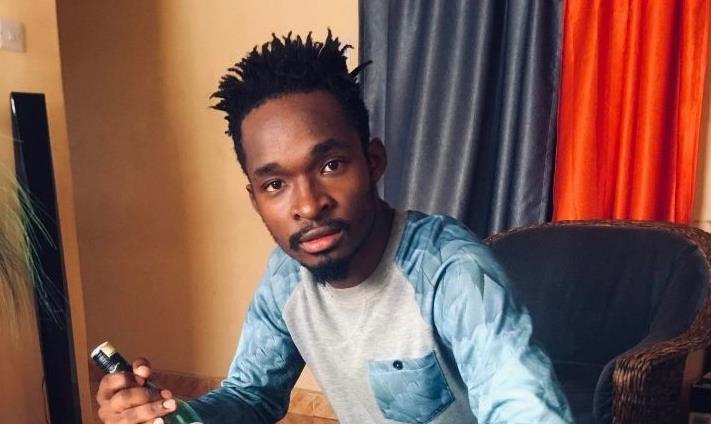 Dear friends in the USA at some point you have experienced or encountered your Kenyan friends requesting to use your USA Bank Account for some payments.
Frank Obegi (killed recently) was one of the worst scammers and online fraud in Kenya. Of late, there has been an increase in the number of young Kenyans requesting Cashapps, Zelle, Venmo, Bank accounts, World remit, Send wave, PayPal and home addresses of their friends/ family in the US and North America.
They convince their friends and families in the US that they are in the "online writing" business. Once they get your information, they send insane amounts of money to the accounts requested. They are even generous enough to give you 10% or even more. What their counterparts in the US do not know is that these guys are engaging in crypto scam. These scammers hack bank accounts of US citizens/ residents and send the money to the accounts they were given.
When the money hits the account they are required to send the money via send wave to their friends mpesa bank in Kenya. After 5-10 transactions the bank accounts of their friends and family members in the US will be limited and frozen due to suspicious activity.
By now the hacked account owner will have reported the scam to the police/bank. The US bank will definitely conduct an internal investigation and might issue a refund to the account owner that the money came from. On this other side your friends in Kenya doesn't know/care that your bank account was frozen. In short you don't have any money by now to spend!
The worst case is when the police contacting you to know how the transactions were done and why the money was moved in vast amounts the moment it hit your account. Imagine being incarcerated in a foreign country for a crime you didn't know. The banks in the US use a system called Checksystem. When your name/social security number is forwarded to this system, you won't be able to open a bank account in any US Bank. You CANNOT survive in these countries without a bank account. And now your PROBLEMS have just began. Advice to the "crypto gang" disguising itself as "online writers" PLEASE DON'T FVCK UP THE LIVES OF YOUR BROTHERS/SISTERS IN THE US! There's no business that gives you 80% profit unless it's a scam. If you have family members in the US be sure to inform them about all this.
©️ Osumo Vincent