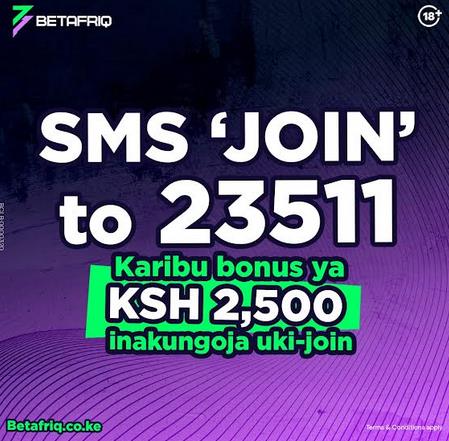 Recently launched BETAFRIQ has already proven to be the fastest growing betting and sports entertainment site, clearly one that can be to be trusted as it is licensed and fully compliant to the Betting Regulations in Kenya. Punters will be elated by what this 'New Kid on the block' has to offer.
Let's take a look.
OFFERINGS:
KARIBU GIFT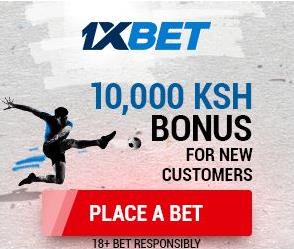 BETAFRIQ has the most enticing way of welcoming its new customers to the site. The welcome gift worth Ksh.2500 is used to top-up one's bonus account every time a bet is placed until the gift is fully utilized. EXAMPLE: By placing a bet worth let's say Ksh 500, 10% of the Kshs.500 being Kshs. 50 will be deposited into your bonus account. The money can be used to place bets without having to deposit any extra amount. It is very easy to grab yourself this KARIBU GIFT simply:
1. Register on Betafriq( www.betafriq.co.ke or SMS "JOIN" to 23511)
2. Deposit funds into your Betafriq account
3. Place a cash bet of Ksh.10/= and above.
WEEKLY JACKPOT
BETAFRIQ offers the most desirable weekly jackpot, with just Ksh. 50/= the customer stands a chance of winning Ksh. 15,000,000 from predicting 13 games correctly. Even better, a bonus is given for 12 out of 13 correct predictions and if worse comes to worse and one gets ZERO correct predictions a bonus is also given out. Everyone is a winner at www.betafriq.co.ke
DAILY JACKPOT
BETAFRIQ has one of the best daily jackpot in the market. Punters stand to win up to Ksh. 2 million on 10 games for just Ksh.20/=. Just as the weekly jackpot, zero correct predictions earn a customer a bonus so as 9/10 correct predictions. No one is a loser at www.betafriq.co.ke
ZERO DATA BROWSING
Who wouldn't want to browse bila bundles? By just joining the best and fastest growing betting firm BETAFRIQ, customers are able to browse through the website and place their bets without any data hustle.
JOIN NOW to CLAIM YOUR KSH 2500 WELCOME BONUS!
As of 1st July, 2022 BETAFRIQ and two other companies were the only gaming operators who were compliant with the Betting Lotteries and Gaming Act. Therefore, they were given their licenses and allowed to run their business as usual.
This is a clear indication that Betafriq is a reliable bookmaker and Punters can go ahead and invest with them. One only needs to be 18+ years to have an account with www.betafriq.co.ke .Considerably the registration options are not limited to the website only, but also by sending the word "JOIN to 23511".
HOW DO I JOIN BETAFRIQ?
The registration is as easy as A, B C, D, which takes less than a minute and you are good to go. Click www.betafriq.co.ke on your computer or internet enabled mobile phone, this sends one to the official site, click the green button written "Register" at the upper right corner. It prompts you to fill a questionnaire, your phone number and password.
Another quick option is through SMS, send the word "JOIN to 23511". You will receive a message from Betafriq with your signup verification code meaning the registration is complete.
By just registering with Betafriq through either of the options, it earns you a "KARIBU GIFT" bonus worth Ksh. 2,500/=, which is redeemable by placing a bet with a 10% top up on all your stakes till the bonus is fully used.
HOW DO I DEPOSIT WITH BETAFRIQ?
With the registration done, the next step is to deposit funds into your account. Betafriq have made betting affordable with their deposits starting from as low as Ksh. 10/=. www.betafriq.co.ke provides a wide range of money transfer methods. The first option is by using the M- pesa pay bill number "878749" use your phone number as your account number, fill in the amount of money you want to deposit, put your password, click DONE.
Second option is through the site, once logged in your Betafriq account, you will see a "DEPOSIT ACCOUNT" on the upper right corner of the home page. Click on it, it opens a page which shows your account balance, click the green "DEPOSIT" button. Once here Betafriq have provided quick deposit amounts and an "ENTER AMOUNT" button which gives you an option of writing the amount of money you wish to deposit. An M-pesa prompt message will be sent to your phone, you only need to enter your password and click "DONE".
WHAT IS THE WITHDRAWAL PROCESS?
Just as the Deposit process. Click the "DEPOSIT ACCOUNT" on the upper right corner of the home page which sends you to a new page. Below the "DEPOSIT" button you will see the word "WITHDRAW" and an empty tab written "KSH" simply write the amount of money you wish to withdraw from your Betafriq account which should be at least Ksh. 100/=. The money will be sent directly to you M-pesa account.
DO BETAFRIQ HAVE A HELP LINE?
Betafriq is a customer-oriented bookmaker. They have an organized customer care service desk who respond to all questions and concerns on all their social media pages. Furthermore, they have free toll numbers (0712 895599, 0701 895544, 0707 878749) which are operational 24/7.
JOIN NOW to CLAIM YOUR KSH 2500 WELCOME BONUS!
#ANYTHINGISPOSSIBLE @ WWW.BETAFRIQ.CO.KE