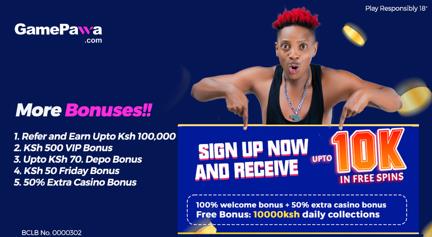 Africa's favorite casino has launched in Kenya, with the best deals in the market so far.
A welcome bonus is a special deal available to every new player who creates an account at GamePawa Kenya. Our Casino welcome offer is a free spin that caps out at a generous Ksh 10,000 KES. Here's how to claim it in just three simple steps:
Register by entering your phone number and a strong password.
Login to your account

Unlike other forms of gambling where you must wait a long time to win, spin and win online games in Kenya are among the fastest ways to win through wagering. In this category of online casinos, you win in a matter of seconds. Below, we'll examine Game Pawa, Africa's favorite Casino.
Gamepawa Registration
You must register on the website in order to begin spinning. Go to www.gamepawa.com to access the website, then enter your phone number and a password you can remember. It will be successful in creating your account. After entering your password and phone number, click Login. Once you've successfully logged in, you can now begin spinning. You will receive a first free spin to welcome you to the site.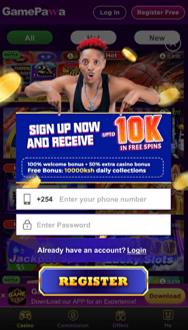 How to play
After creating an account successfully, you can start spinning, you will be presented with the spin wheel as below.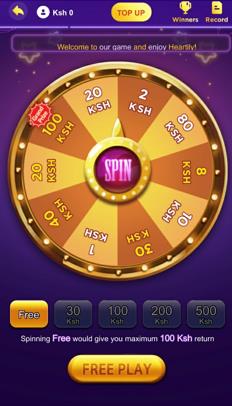 One remarkable aspect of gamepawa is that there is never a chance to win nothing. Of course, you could win money that is less than your stake, but never zero. To begin playing, select the desired wager amount, press SPIN, and if your account balance is low, you will be taken to a deposit menu where you can top it off with Mpesa. Following a successful top-up, you can play the game as before to collect your prizes.
How to deposit on Gamepawa
In order to participate in any game, you will have to have sufficient balance in your account. as mentioned earlier, if you balance is low and you try playing any game, you will be redirected to the deposit tab.
Once you select the amount to deposit, click deposit and a STK push will be send to your registered phone number.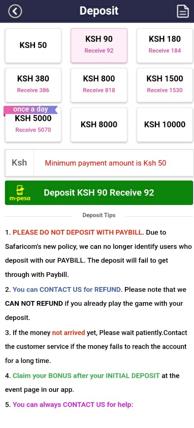 Withdrawal from Gamepawa
After winning, you will need to get your money from the gamepawa wallet. To do this, make sure you are logged in then click on 'Me' page. From the menu, click on Withdraw and a withdraw menu will be displayed. Select amount you wish to withdraw and click withdraw. The money will be send directly to the registered M-pesa number.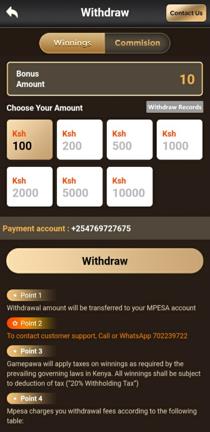 Bonuses at Gamepawa
Gamepawa gives a good number of bonuses to its users. New bonuses are introduced while others get faced out. At the time of publishing this article, the bonuses below were available.
Welcome bonus- each new customer is rewarded on the casino, you will get a free first time spin, you will also get a free deposit bonus as indicated in the deposit tab on the site
Friends invite bonus- when you invite a friend and their play a game on the site, you will be rewarded a 5% commission of their life time stakes.
For more bonuses, you can go to the casino and click on offers at the bottom.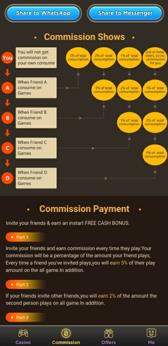 Other games on GamePawa
While spin wheel appears to be the main business on GamePawa, there are other games available on the online casino and are as follows:
Violent NBA- this game is similar to the physical basketball pitch only that this time it is online and you can play it from almost anywhere. To play the game, you just have to choose the amount you want to stake with and aim to score. Every basket you are able to score will represent your winnings.
Lucky Box- in this game, you open lucky boxes, each box has a different winning amount, each box opening costs at least ksh 30, the winnings will be drawn from an indicated jackpot on the top part of the game window.
Lucky777- this is another spin wheel, in this case however, you win when three identical items on the spin wheel align. Every time you spin, the items roll.
This are but some of the other games on the bookie, you can get all of them y going to their site and clicking on more games.
GamePawa app download
The bookie also have an app, to download it, go to the website register your account and then click on App download. Log in on the app and enjoy your spinning.
How to Earn from GamePawa referral program
You can recommend friends or anybody else to GamePawa's legitimate referral program and receive a lifetime commission that ranges from 5% to 1% of whatever they stake on the platform. Additionally, you will be compensated for the referrals of people you referred.
To sign up, simply create an account, then click Commissions at the bottom of the page. From the menu, select Copy to obtain your referral link and begin sharing it. Even social media groups are eligible for sharing. On the website, you may monitor your commission. You can make withdrawals at any time using the mpesa number you registered with, although fees might be assessed.
GamePawa customer care
In case you want to contact GamePawa, you can get to them through WhatsApp or make a call through the following mobile phone numbers.
254 702239722
Pros and Cons of GamePawa
The website is easy to use and the registration process is quick, making the casino one of the finest for placing bets and winning swiftly. In addition, you get to take advantage of various bonuses, and there are additional games available besides spin wheel.
On the other hand, winning at online casinos completely rely on luck, so you should be careful to keep your gaming spending to a minimum. Cheers!!