President Uhuru Kenyatta was voted by not more than 10,000 people in Nyanza but his opponent, Raila Odinga received more than 100,000 votes .People have been wondering why it's so easy for Raila to receive many votes from the Kikuyu..the answer is this: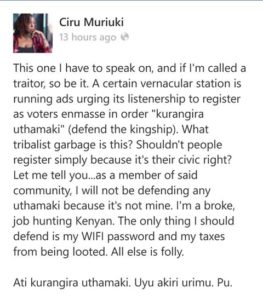 Ciru Muriuki is one of the many youths from Central Kenya who feel alienated by the Kikuyu elites. This group of youths have given up in life after studying hard only to be told by insensitive government that there are no jobs for them.
In Central Kenya, not only jobless youths are angry with the government, but also a huge population of people who can't make the same amount of profits they used to make during the coalition government. There are also others who naturally hate Kenyatta family, due to historical matters.
Other people who vote for Raila in Central Kenya include the Luo, Kisii, Luhya and Kamba who live in Thika and its environs.
In 2017 Raila is expected to receive over 150,000 votes from Central Kenya