How to Make Ksh 100,000 Per Month Online from Affiliate Programs in Kenya
After you find it hard to join AdSense, your closest available option is affiliate marketing. There are numerous affiliate programs in the Kenya, which include Kilimall affiliate program (You can join through this link),Jumia affiliate program,Travelstart affiliate program,Amazon,ebay ,BgCommerce,Bookings.com,Betin etc. For those who have experience in affiliate marketing, I would proudly tell you there is money in these programs but only if you do it in the right way.
Affiliate marketing is totally different from Google AdSense. While in Google AdSense you depend on people to click on your banners for you to earn, in affiliate marketing, you have to sell an item for you to make money. Due to this difference, most people prefer Google AdSense as it seems easier to make money from. I would say that if you want to develop a brand, join affiliate marketing but if you want to be under the mercy of AdSense, join the program.
To make Ksh100, 000 per month from Affiliate programs, you must have a blog, a popular Facebook page and a Twitter account-but I would strongly encourage you to focus on using a blog to market products because it's one that will have the best conversion.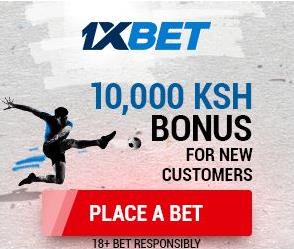 Once you have developed a blog, ensure it's a niche blog. A niche blog is one that focuses on one industry. In Kenya, I would encourage you to develop a blog that specializes on electronic products, travel products and tourism….there are many affiliate programs for this.
To make Ksh100,000 in a single month is not hard as long as you understand the rule of this game. The first rule is to use a language that can convince your readers to buy the product. Make sure you write facts, make the story interesting to read and capture features people want to read. If you do that and more than  1,000 people manage to read your article, one or two will buy the products. Assuming a single product was costing Ksh20, 000, you will make Ksh 2000 from the two items. If you go head and write 3-5 articles per day and manage to attract 6 sales, you will go home with at least Ksh3, 000.With time, your traffic will grow and result to more sales.
Statistics show that for every 1,000 views a blog gets, one product is sold through the links the blogger shares on his articles. For the affiliate marketer to earn more than Ksh3,000 per day, his blog must receive 3,000-5,000 views per day….but the income depends on the type of a product you sell and the season you are promoting the product. For instance, if you are promoting hotels during festive season, you are likely to earn more during that time.
What I will like to assure you is, it's easy to receive 3,000 views per day especially if you are passionate about what you do. But if you find it hard to receive more traffic, you can boost your blog by using SEMrush (SEMrush link)
What successful affiliate marketers do world over is to promote at least 5 products, such that if each product brings them Ksh500 per day, they are able to go home with a t least Ksh2, 000 per day. The beauty of affiliate marketing is that you can promote several products and earn from both. It's also exciting to note that this is passive income, once you have enough content, you will earn as you sleep.
One important thing to note, don't make a mistake to mix affiliate programs with AdSense especially if you want to make maximum amount from affiliate programs. It's advisable to sacrifice one program over another. If you mix AdSense and affiliate programs, you will perform dismally in Affiliate marketing as all your energy will be directed towards getting clicks. The biggest mistake Kenyan bloggers make is to put a banner in their websites and wait to sell—it doesn't work that way. In affiliate marketing, you have to promote products through blog posts, where you sneak in links.
Today, if you want to earn over Ksh 100,000 on line from affiliate marketing, this is what to do:
Start a niche blog
Make sure your blog receives over 3,000 visitors per day.
Promote affiliate products through blog posts
Put your readers in purchasing mood.
Promote the right products
Don't mix AdSense with affiliate marketing
Be consistent
To conclude, money doesn't come as easy as you may think, you have to work hard.
Oh!!!before I forget,this is the most recent commissions earned from one of the affiliate programs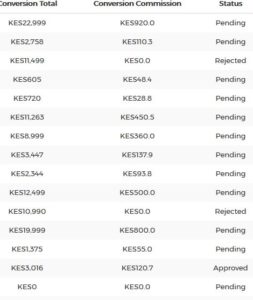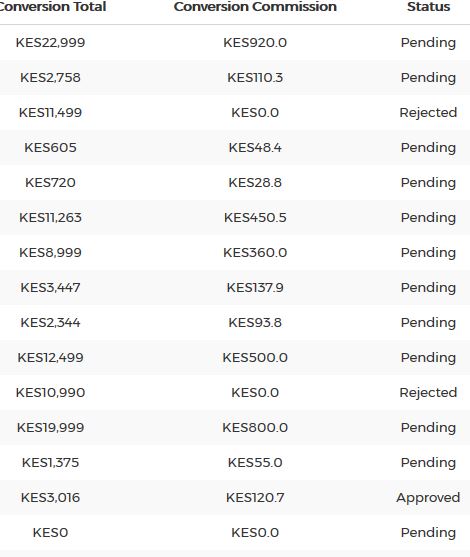 You can join the program through this link