Many Kenyans aren't aware they can win up to Ksh13.2 billion in Powerball jackpot. This is the most expensive jackpot in the world and is popular in USA, UK and other European countries.
If you are a Kenyan and you wish to make more than you can make from Sportpesa, sign up for Powerball, bet and win. Once you sign up, you will be able to place a bet for Ksh 200.Each bet will enter you into the competition, where you stand a chance of winning over Ksh13.2 billion-if you win this money, you automatically become one of the richest Kenyans.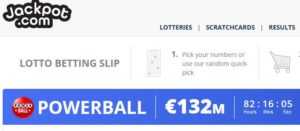 The good thing about Powerball is that you are allowed to play from any part of the world as long as your ATM card is VISA enabled.
Powerball conducts two draws each week, Wednesday and Friday. Once you have placed a bet(s) you wait for a draw on Saturday or Wednesday to know whether you are a winner. If you happen to be a winner, you will be contacted by the company.
To know more about Powerball and how to play, here is a link(Sign up link)