Zimbabwe military has is now in charge of the country after they announced this morning on national television that they want to 'clean Mugabe's government.
Through Radio Zimbabwe Broadcasting, General Chiwenga confirmed that the military is now fully in charge but assured te nation that Mugabe is quite fine.
After the address, the following events occurred: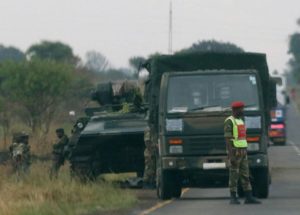 Gunfire were heard near the residence of President Robert Mugabe
Four explosions were also heard in capital, military vehicles seen on streets
Solders took over state broadcaster's building,where they will address the nation from time to time.
US and UK have also issued warnings to their citizens in the country. They have urged their citizens to remain indoors as they watch as events unfold.
The military have detained Finance Minister Ignatius Chombo as tanks & armoured vehicles seal off road access to parliament, government buildings & courts in Harare