Many couples are on a fixed budget, which raises a question," how can I do a cheap wedding?". Definitely, this is the most common question among couples in Kenya who plan to make their union official. Weddings are very expensive, they can drain you and leave you in debts. But if you have a solid plan, the event will run smoothly even to the honeymoon level.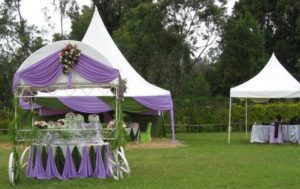 To have a cheap wedding in Kenya, there are unnecessary things you should avoid. In my own experience, the most important things in a wedding are:
Food
Transport
Dowry
Venue
Sound system
Gown
Photograph
Once you have budgeted for those things, everything will move smoothly thereafter. What I know is that everyone in a wedding has come to witness two people exchange vows. For them to go home happy, they have to eat well, dance and get home safely, the reason we have included food, sound system and transport among important things you need in a wedding. A wedding is more important for a woman than a man, which is why we have included wedding gown in the above list.
A wedding requires that you start saving at least one year before you formalize your union.Many people save their money in fixed deposit account but I always advise that they save in money market fund/unit trusts. One of the best companies to save the money is CIC, which guarantees monthly interest of at least 11% of the deposited amount. The good thing about unit trusts is that your principal amount will be safe as you get almost double the interest you could earn from a bank.
If you save Ksh30,000 every month for one year, you will make over Ksh40,000 in interests. This means the total amount you will withdraw in one year is Ksh400,000.The money is almost enough to cater for wedding expenses.
Remember ,raising money for your wedding squarely lies on you.When you are conducting the exercise,you should try as much as possible to avoid overburdening other people with fund raising.I would advise you to save Ksh400,000 first before you start fundraising-let people enjoy the wedding without necessarily contributing…that will make the ceremony memorable.
According to my estimates, a cheap wedding in Kenya costs Ksh 500,000 to Ksh 800,000.
Here are breakdown of the cost of a cheap wedding in Kenya:
Ruracio: cheap but Modest at 200k
Dowry payment : 150k
Food for the event: 50k
TOTAL: 200K.
Wedding : Cost efficient at 350k
Food for 350 guests @300= 105k
Venue (tent, chairs, tables) = 50k
Church + Attorney = 20k.
Decor: 30k
Videography : 60k
Transport and logistics: 20k
Parents clothing: 20k
DJ/Mc: 15k
Sounds system hire: 30k
"Private matters" = 70k
Wedding rings: 20k
Wedding Gown hire: 20k
Grooms suit, shoes: 15k
Bride shoes, jewellery: 10k
Bride and Groom Manicure and pedicure: 5k
Honey Moon local for 4days = 60K
New Home settling and set up (may be prior to wedding) = 30k
1+2+3+4+5= 710k.
In total,this wedding will cost Ksh710,000