A Kenyan man may spend up to 10 years in jail after he withdrew Ksh39,000 sent to him via MPESA by mistake.
Milicent Atieno sent Ksh 60,000 by mistake to one Stanley Irungu who happily withdrew 39,000 before safaricom reversed the remaining Ksh 21,000 to Millicent.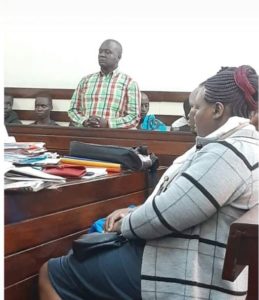 Millicent tried in vain to request Irungu to refund her Ksh 39,000 but Irungu showed her a middle finger!
Upon being arraigned in court today, Stanley told the magistrate that he was willing to refund the Ksh 39,000 but the magistrate released him on a cash bail of 20K and set his case for mention on 1st October.
Since there is evidence Irungu received the money and never returned to the owner,the magistrate will sentence him later this year—a jail term of up to 10 years awaits Irungu.