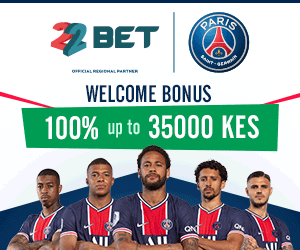 MPESA is widely used in the e-Commerce World in Kenya, it's popularity has been steadily growing over time, exceeding any form of mobile payment in the e-commerce industry. Statistics show that at least 31.6 million Kenyans use MPESA to send and receive money in the country with a number of those transaction happening in the e-commerce world.
The major reasons MPESA has been embraced over other payment methods by majority of Kenyans include:
It's reliable
Fastest way of receiving and sending money
It's convenient
Transaction costs are low
e-commerce is one of the sectors in Kenya where MPESA is popular. Casino is one sector which has completely exploited the use of MPESA.Though there are other payment methods in the industry, MPESA is regarded as the best and most convenient by Kenyan punters. Almost all the online casinos in Kenya accept the usage of Mpesa, which makes it a very popular payment method in huge online casino brands like 22bet.
Kenyan Gamblers prefer MPESA mobile payment method because it's easily accessible, easy to use and cheap. It's quite interesting that every casino company provides a wide range of payment options but only MPESA is majorly active. The only time an active gambler of a specific Casino firm would use other methods is when MPESA is not functional.
At the moment, over 30 Casino companies in Kenya provide MPESA as the main transaction method for their customers. Any company without this option may not survive in the Kenyan market because players would find it inconvenient to use other methods like Airtel Money and Bank Transfers.
According to Connecting Africa, there about 52.2 million active subscribers in Kenya, of which 33.1 million belong to Safaricom. This represents 63.4% of the total number of Kenyans using Safaricom services. Since MPESA is owned by Safaricom, it implies that nearly 100% of transactions happening in the Casino world occur through MPESA.
MPESA's popularity is not only prominent in Casino but also in betting and online stores like Jumia. Though Jumia offers Airtel Money and MPESA as the main payment methods, majority of transactions are done via MPESA.In 2019,the Education CS Dr Fred Matiangi ordered the closure of 27 MPESA Paybill numbers of betting companies in Kenya. Before the action was taken, there were approximately 12 million active gamblers in the country but when the Paybill numbers were closed, the number decreased drastically to nearly 7 million. This alone demonstrated how popular MPESA is in the gambling industry.
In regard to Casino, subscribers are required to bet offline and online, but since betting sites like 22Bet and Betway provide a way of betting online, majority of gamblers prefer online betting. MPESA is the most preferred way of sending money into the betting accounts because it's convenient. When a punter wins, the money is credited into their account and they are able to make instant withdrawals to their MPESA accounts. Any serious gambler won't ignore MPESA over other payment methods.
Going forward, MPESA might be the only method in use by Casino firms to receive payments and settling winnings despite the existence of other payment methods like Airtel Money, Skrill, PayPal and Bank Transfers.