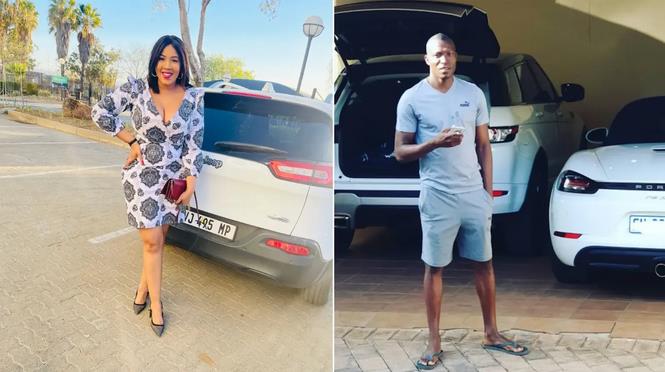 Reports have emerged that Tendai Ndoro is swimming in poverty after his wife swept him clean. The Former Orlando Pirates player has been seen loitering in the streets of Zimbabwe nearly bare footed. He tried to fix himself with a local football team but the money he was getting wasn't even enough to buy half-lunch. His woes started when Satan befriended him until he allowed all his property to be registered under his wife's name.
During divorce proceedings even the judge who was handling the case was embarrassed to see how a tall man of Ndoro's caliber could easily be convinced to give away all he has worked for. But life is life, he lost all his property to the determined wife.
Today the wife has surfaced to clear the air. Here is what she said:
"I just wanted to clear the air. On the issue that was posted about me, This lady in the picture is not me. People are mistaking me for the lady Tendai was dating after our marriage ended in 2018.
I've not seen Tendai since then, and I've never lived in Kyalami. When I was staying with him, we were in a rented house in Boksburg, and he didn't own that property.
When we left that property, I left my car, and Tendai left with his golf. I started seeing the lavish cars after the marriage ended, and I saw the new lady.
If you can go to my pictures on Instagram, you will see I'm still driving my own car, and we never had any paperwork for the property because it was not ours; we were renting."
We were renting, as I said. I moved out, and he moved out as well, and the house was in arrears cause he was not paying. [iHarare was supplied with documentation proving this]."
It's so sad that I'm being painted black for something I don't even know. This lady he used to post her after we broke up and they would write each other in Shona, but I don't know her name."
I really don't want to bad mouth him. I think he's going through a lot as it is.
I've since moved on with my life, and this false news is tarnishing my image. I'm currently with someone else, and I don't know anything about Tendai.
One day, people will still see me with my partner, but I'm also doing this for my family not to be disgraced"