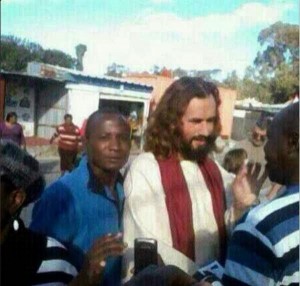 There was drama and excitement in Ghana as a man who looks like Jesus appeared on the streets of Ghana.
The middle aged man was first seen in Dansoman, Accra Ghana doing house to house as a crowd milled around him to at least have a glance on the son of God, maybe it was the end times.
The man, who was not bothered with the swelling crowd, continued with his normal duties. It was later established that he was in the country to shoot a movie.
His photo went viral on social media, prompting the media houses to rush to the scene to do the necessary.