Four female police officers in South Africa have shocked the entire nation after they captured four heavily armed men without firing a single shot.
Mbuyiselo Kunene, Nokukhanya Dlamini, Ntombifuthi Dlamini and Ashleigh Conwaywere were on duty when they received a distress call from a passersby,who had seen the gang terrorize customers at a McDonald's in the city's Pixley Isa Ka Seme Street. The officers responded, but with caution-as they were trained.
The officers, who are new recruits, engaged the gang in blows and kicks until they retreated. To scare the hell out of the gang Mbuyiselo Kunene squeezed one of the gang's private parts, forcing the man to yell in pain. When the other gang saw the world was turning upside down, they fled into a crowded taxi rank. Backed up by the male officers the women stopped the gang from escaping in a taxi.
They cut the taxi off, guns drawn they removed the gunmen from the packed minibus. The ladies recovered unlicensed firearms used in the robbery as well as the money taken in the heist.
"It was exemplary work in a stressful and dangerous situation" – Lieutenant-Colonel Thulani Zwane, Police spokesman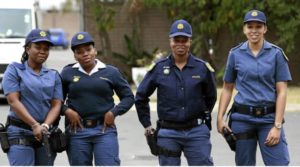 Lieutenant-Colonel Thulani Zwane gave the ladies high praise for their arrests. He said the gang was subdued by the team of female officers, who remained calm under pressure!