Best Juice Blender in Kenya
We know what coca cola can do to your body…it's advisable you avoid drinks that are not processed from natural fruits. Basing on this fact, several families have opted to have juice blenders in their homes in a bid to keep away health related complications resulting from risky drinks.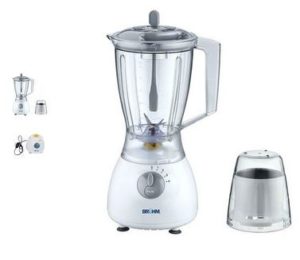 As you go shopping for a juice blender, you will have several options but among your options is
Bruhm BBG296, which has been purchased by more than 10,000 Kenyans. Juice blenders from Bruhm are ranked the best and every individual with this information will always go for products made by this company.
Bruhm BBG296 costs Ksh 2,950 and is found in many shops across the country.The blender can also be ordered from Jumia (order link).
The reasons why many Kenyans prefer this juice blender are as follows:
2-in-1: Blend and grind
Blend up to 1.5 Litres
Less energy consumption
Hard to break
When you purchase any product from a shop, the major motivating factor should be the quality of the product. In this Bruhm blender, the three major features to consider are, energy consumption, quality of the material used and the price. By all standards, the price, which is less than Ksh3,000 is reasonable for this particular blender.
What you can blend with the Juice blender
The most common fruits to blend include tomato, carrots, beetroot,oranges,apple,watermelon,pineapple,mangoes,lemon.