Shabiki.com is the fastest growing gaming company in Kenya, it's now Sportpesa's main rival. The new kid on the block has grown in width and breadth and is now the main talk of the town. While Sportpesa has a jackpot that is highly tempting, it's not as impressive as Shabiki.com jackpot.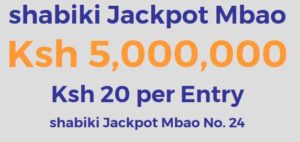 We all agree that this is a gambling game, where the winner is determined by the number of games predicted correctly, we too agree that becoming a millionaire is every Kenyan's dream, but some dreams are as wild as surpassing Bill Gates net worth, which is why you should aim small and grow with time. In Shabiki.com, you have Ksh5 million to win for Ksh20 while in Sportpesa, you spend Ksh100 to win Ksh10 million to Ksh50 million. If you decide to bet at Shabiki.com, you will make 5 predictions, which are equivalent to a single prediction in Sportpesa. This means, you have higher chances of becoming a millionaire if you stick to Shabiki.com as compared to the probability of winning in Sportpesa.
The good thing about Shabiki.com is that you are allowed to bet for Ksh20 and win Ksh5 million. In Sportpesa, the minimum you can bet with is Ksh100.This means Shabiki is for those who aren't ready to waste money.