Jimmy Wanjigi's, wife Irene Nzisa, appeared in public for the first time and left Kenyans thrilled.
The Kamba lady has never been seen by even Jimmy's closest friends, but today she was together with her husband, holding on to him as Jimmy narrated how events unfolded in his house.
Nzisa boldly did what most Kenyan women avoid, to comfort husbands when things go south. Here is a photo that is trending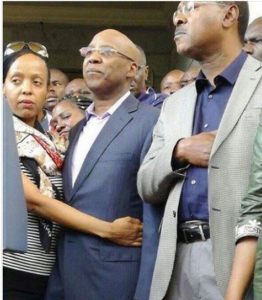 Jimmy was yesterday in constant trouble after Recce and Flying Squad raided his home.He went into hiding and only resurfaced today.