Liver betting is one of the best methods of placing bets. I am one of those people who love live betting because I like the fact that money is earned instant. There are few important tips to note before you start betting live.
The first thing I do is ensure I don't bet with a lot of money.Normally,I load my account with at most Ksh 1000 .I do this because Live betting is so tempting that it can make you lose even Ksh20,000 in a minute. After I have deposited the money, I go through the list of matches being played. I first identify games with this score 0-1.If I realize that home team has more shots on target than the away team, I place a bet indicating home team to score the second goal.
The second trick I use is, I identify matches which have been played for at least 80 minutes .Then select games with tied goals(draw).In the 80th minute, the odds are high and each amount you bet with is likely to earn you up to 100 times. I normally, I identify three games which I place single bets with a selection that one more goal will be scored. From history, most teams score in eleventh hour and when I place three bets, two must go through. What excited me most is that the odds are normally above 5, implying with a bet of Ksh100,I get at least Ksh 500.If I place three bets and one fails, I make a profit of Ksh700 and above in ten minutes.
There's something I like also when making live bets; if home team has the odd of below 1.2 and away team over 8,I bet that over 1.5 goals will be scored-in almost all cases, the bet is won.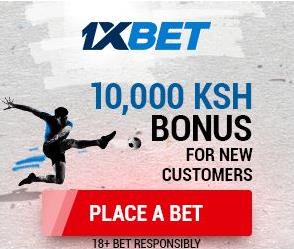 What I avoid most is to bet that each team will score in a game. Instead of having this option, I select the option that over 1.5 goals will be scored-this is because sometimes one team can score 2 goals and another one miss to score.
I also like to bet when the teams are almost going for half time break. I wait until the matches clock 35 minutes to place my bet.During this time the odds are high and there are high chances goals will be scored.I select an option that one more goal will be played.I ensure I have three matches in my selection so that if one match goes through and two fail,I will  be able to recover my bet amount.
Now, if you wish to place a live bet and employs these ideas,sign up here and get 200% free betting bonus