MBet is one of the best betting sites in Kenya, the company offers exciting services, which include daily jackpots, welcome bonus and daily list of matches with highest odds in the betting industry. In this article we'll take you through the process of joining, depositing, withdrawals, how to earn the bonus, paybill number and how to receive daily jackpot predictions.
How to join MBet Kenya
Registering require one step only, follow this link and fill your details. The process takes less than 2 minutes.
After registering, you'll receive a confirmation from MBet showing that your registration has been successful, you will then be allowed to place any bet on the platform.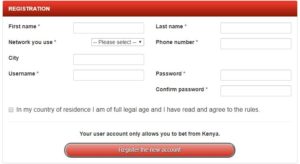 How to Deposit money into your MBet account
After registration, the second step is to deposit money into the new account you have created. MBet Paybill number is 298888
To deposit, follow these steps:
Select M-PESA
Lipa na M-PESA
Pay Bill
Select Enter business no.
Enter 298888
Select Account no.
Enter deposit
Enter Amount
Enter your M-PESA pin
MBet Bonus
Any new member will be eligible for Ksh 25 bonus for any amount deposited into the account, the first deposit should be above Ksh 50.
Once you register, make sure you deposit at least Ksh 50  into your new account so as to receive welcome bonus of Ksh25.If you deposit Ksh50, then the total amount in your account will be Ksh75.Use the Ksh75 to place a bet of your choice, once you win, you'll be able to withdraw the amount won.
Withdrawal from MBet
MBet provides an option of withdrawing the amount won from the player account into MPESA account. On top right, there is a withdrawal option, it's indicated, "Wallet Withdrawal", enter the amount you wish to withdraw and click "Withdraw". You will receive a confirmation message on your phone with a code that you'll use to complete the withdrawal process.
MBet jackpot
MBet has daily jackpots where you can win in excess of Ksh1 million. The jackpots are played by thousands of Kenyans and they are extremely easy. Even if you don't get all the games correct, there are bonuses for specific number of games correctly predicted.
Instead of betting for daily multibets, you can turn to the daily jackpots because the amount to be won is higher than from the multibets.
I am one of those gamblers who prefer jackpots than the single bets we normally bet one. With jackpots, I am guaranteed of big money once I win.
Who owns MBet? Here is the available information:
"M-BET is a company incorporated under the laws of Kenya, and licensed by the Gaming Board of Kenya, for the purpose of conveniently providing – making available with easy access and interaction to Mobile Betting services to the entire country via Mobile Networks and Electronic Wallet services.
Introducing the first of its kind innovated and original concept of offering Sports Betting (Football) via a stable and established Electronic Wallet system network in Kenya and East Africa. This concept has proven to be the trend for substantial revenue growth and potential in the International Gaming Industry today.
M-BET offers a Sports Betting service that covers all Major Football Leagues' to ensure the availability of an extensive variety their clients, with the added value of ease of payments and collections to the clients.
M-BET has strategically designed a technical platform on which transactions would be calculated and verified to communicate to the Mobile Networks systems, and in turn ensure a smooth and accurate transaction due the fully automated and tested systems"