Gamblers always go for something with high odds and good returns;Betlion has the most expensive jackpot of Ksh 350 million but going by the response of Kenyans, things are not rosy for the company.
Betlion was purposely incorporated in Kenya to counter the popularity of Sportpesa but ever since it was created, it has failed to excite Kenyans.
One of the reasons Kenyans aren't enthusiastic about the Goliath jackpot is the number of games provided. Most of them have tried the 17-game Sportpesa jackpot and realized it's not easy to win, what about Betlion with 20 games—quite impossible to win.
One thing I know is that Betlion thought that that Kenyans would pour into their website once they see Ksh350 million but having attended to most gamblers, I understand they are intelligent people. Kenyans know when a company is trying to take advantage of their desperation. Most of these gamblers are graduates and have done a lot of gambling for years, they probably have more experience than those working at Betlion, they know what is good and what is bad.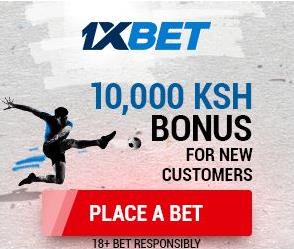 If you go through Betlion games in any of their Goliath jackpot, you'll discover that none of the games is easy. Now tell me, how long will it take for a Kenyan to win the Ksh350 million? Forever
Another reason is the amount of money stated as bonuses. Betlion bonuses start from 17 correct predictions, the difference between 17 and 20 is 3 games. While in Sportpesa,the bonus starts from 12 correct predictions out of a total of 17 games. The difference between 17 and 12 is 5 games. Even if you weren't clever in school, you'll notice that Sportpesa is more generous and ready to benefit their clients.
As if that is enough, if you get 18 out of 20 correct predictions, you are only awarded Ksh1 million out of the Ksh530 million. In addition, if you manage 19 correct predictions, the amount you'll take home is Ksh 5 million. This is absolutely not fare to players.
Currently, Betlion has less than 200,000 Kenyans who play their Goliath Jackpot while Sportpesa used to have more than 5 million. Despite Sportpesa being offline, still people are not in a hurry to join Betlion.
Today,I read several comments on Betlion Facebook page,and here is what Kenyans were advising the company:
Sam Ngavo Plesea can u give us 1-17 game then bonus start with 12 game pliz
Jackson Karuiru Kindly reduce your matches from 20 to 17 and let bonuses start from 12, are we together
Chippi Chippi How to deregister from site today.
Chirchir Gerald Jnr Transparency please.. we don't know if people are winning bonuses here
Evans Kaka We need plz a small stake like 50 amamlete hizo games zifike 17 kama hamtaki na sis hatubet coz hata ukae predictor gan huwez kumake kufika 20 games hio n kutukula pesa zetu kwendaa uko.nshaa tumia 3k cjaipata bonus
Pati Chei Goliath is not bad but please reduce game to 17 and bonus start from 12 like SPORTPESA
If the company is serious on gaining more subscribers, they should reduce the games and make the bonuses start from 12 correct matches.
What should worry the company at the moment is that Shabiki means business,they have introduced Shabiki Power 13 midweek jackpot and soon they will introduce Shabiki mega jackpot.I have keenly looked at Shabiki matches and to be realistic, they aren't as tough as those listed on Goliath jackpot. In future,Shabiki will inherit all the Sportpesa clents,assuming Sportpesa won't be back.