Jubilee Secretary General Raphael Tuju has shocked Jubilee and Mariga by doing the unthinkable.Late last month it looked normal for Mariga when he was cleared by Jubilee,Raphael Tuju was the one who cleared him. There were ululations and celebrations when Mariga was finally given the certificate the sole candidate for Jubilee. Minutes later, news broke that the footballer will contest for Kibra Parliamentary seat.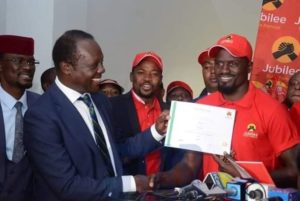 Mariga was excited and went ahead to promise fireworks at the second largest slum in Africa. Little did he know that he has been played, amepigwa stick hadi cheee. Raphael Tuju knew that Mariga was headed nowhere because he is not a registered voter in Kibera.To make matters worse, those who were left out are registered voters in Kibra.
The Jubilee secretary General is in constant communication with Raila and he knew what he was doing, he is going to contest for Siaya Governor seat.Tuju must massage Raila's ego for him to become a governor, hence he had to make sure Jubilee is confused heading to this race. He handed over the certificate to unregistered voter.
Yesterday while Mariga was excited to be cleared by IEBC,he was told that his things are not in order meaning that he won't participate in this election. Mariga went home crying, giving ODM a sigh of relief.