President Uhuru Kenyatta is not campaigning with Ruto anymore. The Kibera by election is a litmus test for Jubilee but the president has decided to give it a cold shoulder despite Ruto urging him to join the rest of Jubilee battalion for campaigns.
As Maina Kamanda said,"Loho ya Uhulu iko na Imran",it's indeed true going by the recent activities in Kibra.What's shocking is that Uhuru's close allies who include Anmne Waiguru,Maina Kamanda,Alfred Mutua and several other politicians in the ruling party are campaigning for Imran Okoth.It's obvious Ann Waiganjo is representing the President in Kibera.
Sources close to the president are saying that Uhuru is waiting for the outcome of Kibra by election determine whether to receive the BBI report or not. If Ruto's man, Mariga wins the race, Uhuru will rethink his union with Raila.The president also decided not to campaign for Mariga because the late Ken Okoth was his personal friend—he is passively behind Imran Okoth.
Ever since Uhuru received Mariga in State House, there is no single day he has uttered a word in support or against the footballer. It was Uhuru's responsibility to endorse a Jubilee candidate but beyond there, he left Mariga to fight on his own;luckily,Ruto chipped in to campaign for Victor Wanyama's brother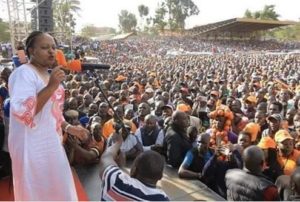 We suspect that after the Kibra by election, Uhuru and Raila will openly start campaigning for the BBI and the imminent referendum, Ruto will be against the report. That campaign will split the ruling party, hence forcing Ruto and Uhuru to go separate ways.