Yes.Helb gives loans to diploma students who are placed in the category of TVET LOANS. This category is strictly for students pursuing certificate and diploma courses in select public universities, select university colleges, public national polytechnics and Institutes of Technology and Technical Training institutes. Helb gives first priority to orphans and the disabled. The maximum amount given to certificate and diploma students is Ksh40,000 per year.
Application Requirements:
Admission letter from the institution.
National Identification Card.
Applicants should access and fill the relevant TVET Loan and Bursary Application Form (TLAF).
Print TWO copies of the duly filled Loan Application Form.
Have the TVET Loan Application Form signed and stamped by the Dean of Students/Financial Aid Officers.
Retain one copy of the duly filled TLAF (Mandatory).
Drop the TLAF personally at the HELB students Service Centre on the Mezannine One, Anniversary Towers or any of the SELECT Huduma Centers nearest to you.
Click HERE to download approved TVET institutions funded by HELB as at September 2019.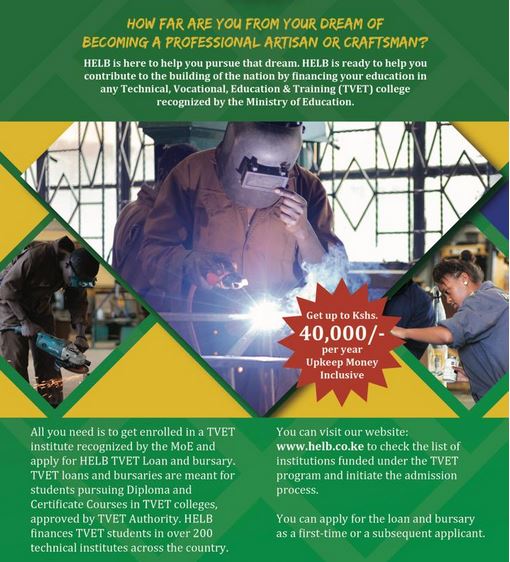 Customer Service Touch Points
Anniversary Towers, University Way:
Touch Point
Floor
Service Offered
Operating Hours
Students Service Centre
M1

Loan/bursary application, allocation and disbursement queries
Drop off of Loan Application Forms.

Mon-Fri

8am-5.00pm

Customer Experience Centre
Ground

Loan Repayment
HELB Compliance and Clearance
HELB Jielimishe Inquiries

Mon-Fri

8am-5.00pm

Cash Office
18th

Receiving and receipting of cheques
Receipting of cash deposit slips

Mon-Fri

8am-5.00pm

Contact Centre
 Tel: 0711 052 000

Email:
[email protected]

Twitter & Facebook:

@HELBPage

  All enquiries
Mon-Fri

8am-5.00pm