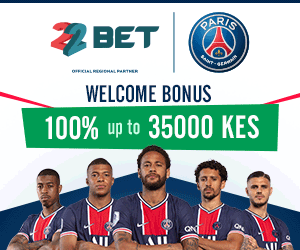 22Bet is one of the best betting companies in Kenya.One question which gamblers often ask is whether 22Bet charges tax,the answer is yes.Every betting company which is legally operating in Kenya charges tax,22Bet is not exceptional.
But one advantage of using 22Bet is that they don't charge withdrawal fee like companies such as Betika and Odibets.If you win Ksh1,000, that's the money you withdraw from the account. Another advantage is that they offer 100% welcome bonus for any new sign up.If you wish to sign up and get the bonus,click on this link
The odds on 22Bet are also high especially for most popular games. What I like most is the fact that when you win, the money is immediately credited to your account. Some of these good things are the reason why most majority of gambler are shifting from other betting sites to 22Bet.
When it comes to tax,22Bet charge tax on winnings. Assuming that you spend Ksh100 to bet and win Ksh 1,000. It means the amount you win is Ksh900.This is the amount is taxed.The company does not tax stake but winnings only.The percentage tax on winnings is 20%.
If you wish to register for 22Ber Kenya,click on this link