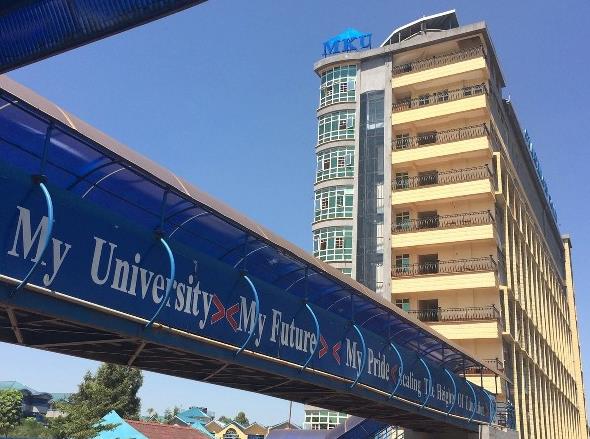 MKU offers Certificate,Diploma,Degree ,Masters and PhD courses.In 2022 here are the courses offered by the university and the fee structure for the programmes;
Certificate courses
Certificate in Accounting
Certificate in Animal Health and Production
Certificate in Artificial Insemination
Certificate in Banking and Finance
Certificate in Bridging Accounting
Certificate in Bridging Biology
Certificate in Bridging Chemistry
Certificate in Bridging English
Certificate in Bridging Kiswahili
Certificate in Bridging Mathematics
Certificate in Bridging Physics
Certificate in Business Information Technology
Certificate in Business Management
Certificate in Clinical and Community Nutrition
Certificate in Community Development and Social Work
Certificate in Community Health
Certificate in Community Health and HIV/AIDS Management
Certificate in Computer Application Packages
Certificate in Computer Engineering
Certificate in Computer Forensics and Investigations
Certificate in Criminology and Security Management
Certificate in Early Childhood Studies
Certificate in Electrical and Electronic Engineering
Certificate in English as a Second Language
Certificate in Entrepreneurship
Certificate in Financial Science
Certificate in Health Records and Information Technology
Certificate in Hospitality Management
Certificate in Human Resource Management
Certificate in Information Science
Certificate in Information Technology
Certificate in Journalism and Mass Communication
Certificate in Marketing Management
Certificate in Medical Engineering
Certificate in Nutrition and Dietetics
Certificate in Project Management
Certificate in Public Relations and Diplomacy
Certificate in Purchasing and Procurement Management
Certificate in Risk Management and Insurance
Certificate in Risk Management and Insurance
Certificate in Science Lab Technology
Certificate in Travel and Tourism Management
CISCO Certified Network Administrator
Certificate in Enhancement (Mathematics, Chemistry,Biology, Physics,English,literature, Kiswahili, CRE, Geography,History, IRE, Arabic, Agriculture and Business Studies)
Certificate Courses
Diploma in Accounting
Diploma in Analytical Chemistry
Diploma in Animal Health and Production
Diploma in Animation and Motion Studies
Diploma in Applied Biology
Diploma in Banking and Finance
Diploma in Biomedical Laboratory Sciences
Diploma in Business Information Technology
Diploma in Business Management
Diploma in Clinical and Community Nutrition
Diploma in Clinical Medicine and Surgery
Diploma in Community Development and Social Work
Diploma in Community Health and HIV/AIDS Management
Diploma in Community Oral Health
Diploma in Computer Engineering
Diploma in Conflict Resolution and Peace Studies
Diploma in Counseling Psychology
Diploma in Criminology and Security Management
Diploma in Dental Technology
Diploma in Early Childhood Education and Development
Diploma in Education (Arts)
Diploma in Education (Science)
Diploma in Electrical and Electronic Engineering
Diploma in Entrepreneurship
Diploma in Environmental Health
Diploma in Financial Science
Diploma in Financial Economics
Diploma in Film Production
Diploma in Food Science and Processing Technology
Diploma in Health Records and Information Technology
Diploma in Hospitality Management
Diploma in Human Resource Management
Diploma in Information Science
Diploma in Information Technology
Diploma in Journalism and Mass Communication
Diploma in Marketing Management
Diploma in Medical Engineering
Diploma in Medical Laboratory Sciences
Diploma in Micro Finance
Diploma in NGO Management
Diploma in Nutrition and Dietetics
Diploma in Pharmaceutical Technology
Diploma in Project Management
Diploma in Public Relations and Diplomacy
Diploma in Purchasing and Procurement Management
Diploma in Risk Management and Insurance
Diploma in Science Laboratory Sciences
Diploma in Special Needs Education
Diploma in Teacher Education (DTE)
Diploma in Travel and Tourism Management
Undergraduate courses
Bachelor of Arts in Arabic Language
Bachelor of Arts in Community Development
Bachelor of Arts in Criminology and Security Management
Bachelor of Arts in Development Studies
Bachelor of Arts in Film and Animation Studies
Bachelor of Arts in International Relations
Bachelor of Arts in Justice and Security Studies
Bachelor of Arts in Mass Media and Communication
Bachelor of Arts in Peace Studies and Conflict Resolution
Bachelor of Arts in Public Administration
Bachelor of Arts in Public Administration and Governance
Bachelor of Arts in Sociology
Bachelor of Arts in Sociology and Development
Bachelor of Arts in Film and Animation Studies
Bachelor of Biomedical Laboratory Science
Bachelor of Business Information Technology
Bachelor of Business Management
Bachelor of Commerce
Bachelor of Counselling
Bachelor of Economics
Bachelor of Economics and Finance
Bachelor of Economics and Statistics
Bachelor of Education in Early Childhood Studies
Bachelor of Education in Special Needs Education (Primary Option)
Bachelor of Education (Arts)
Bachelor of Education (Primary Education)
Bachelor of Education (Primary Option)
Bachelor of Education (Science)
Bachelor of Education in Special Needs Education (Secondary Option)
Bachelor of Laws
Bachelor of Management and Office Administration
Bachelor of Medicine and Surgery
Bachelor of Pharmacy
Bachelor of Procurement
Bachelor of Public Health
Bachelor of Science in Actuarial Science
Bachelor of Science in Agriculture and Rural Development
Bachelor of Science in Animal Health and Production
Bachelor of Science in Animal Science
Bachelor of Science in Applied Biology
Bachelor of Science in Biotechnology
Bachelor of Science in Clinical Medicine
Bachelor of Science in Community Health and Development
Bachelor of Science in Dental Technology
Bachelor of Science in Electrical and Electronics Engineering
Bachelor of Science in Energy and Environmental Technology
Bachelor of Science in Environmental Health
Bachelor of Science in Environmental Sciences
Bachelor of Science in Finance and Statistics
Bachelor of Science in Food Processing and Technology
Bachelor of Science in Health Education and Promotion
Bachelor of Science in Health Informatics & Information Management
Bachelor of Science in Health Records and Information Technology
Bachelor of Science in Health Systems management
Bachelor of Science in Hospitality Management
Bachelor of Science in Industrial Chemistry
Bachelor of Science in Information Science
Bachelor of Science in Information Technology
Bachelor of Science in Laboratory Technology
Bachelor of Science in Nursing
Bachelor of Science in Nursing (Mental Health and Psychiatry)
Bachelor of Science in Nursing Pediatrics
Bachelor of Science in Nutrition and Dietetics
Bachelor of Science in Oral Health
Bachelor of Science in Petroleum Exploration and Production
Bachelor of Science in Public Health
Bachelor of Science in Real Estate Management
Bachelor of Science in Statistics
Bachelor of Science in Travel and Tourism Management
Bachelor of Social Work and Administration
Bachelor of Technology in Computer and Electronic Systems
Postgraduate Courses
Post graduate Diploma in Monitoring and Evaluation
Post graduate Diploma in Project Planning and Management
Postgraduate Diploma in Counselling Psychology
Postgraduate Diploma in Education
Postgraduate Diploma in Mass Communication
Postgraduate Diploma in Petroleum Management
Postgraduate Diploma of Education
Masters Courses
Master of Arts in Counselling Psychology
Master of Arts in Development Studies
Master of Arts in Economics
Master of Arts in English Language and Linguistics
Master of Arts in Environmental Security & Sustainable Development
Master of Arts in Film Studies
Master of Arts in Geography
Master of Arts in History
Master of Arts in International Relations and Diplomacy
Master of Arts in Journalism and Media Studies
Master of Arts in Kiswahili
Master of Arts in Law Enforcement and Justice Administration
Master of Arts in Literature
Master of Arts in Monitoring and Evaluation
Master of Arts in Public Administration and Management
Master of Arts in Religious Studies
Master of Arts in Security Studies and Criminology
Master of Arts in Sociology
Master of Business Administration
Master of Clinical Medicine
Master of Education
Master of Education in Early Childhood Studies
Master of Education in Special Needs Education
Master of Governance and Ethics
Master of Laws
Master of Public Health
Master of Science in Accounting
Master of Science in Biotechnology
Master of Science in Chemistry
Master of Science in Community Health and Development
Master of Science in Ecology and Conservation
Master of Science in Entrepreneurship
Master of Science in Finance
Master of Science in Food Hygiene and Safety
Master of Science in Health Education and Promotion
Master of Science in Health Systems Management
Master of Science in Hospitality Management
Master of Science in Human Resource Management
Master of Science in Information Sciences
Master of Science in Information Security (Cyber Crime)
Master of Science in Information Technology
Master of Science in Marketing
Master of Science in Nursing
Master of Science in Nursing (Critical Care)
Master of Science in Nursing Education
Master of Science in Nursing Leadership and Management
Master of Science in Nutrition and Dietetics
Master of Science in Procurement and Supplies Management
Master of Science in Project Planning and Management
Master of Science in Renewable Energy and Environmental Engineering
Master of Science in Statistics
Master of Science in Medical Laboratory Sciences
Master of Science in Applied Entomology
PhD Courses
Doctor of Philosophy in Biochemistry (RESEARCH)
Doctor of Philosophy in Business Administration
Doctor of Philosophy in Computer Science (RESEARCH)
Doctor of Philosophy in Conservation Biology (RESEARCH)
Doctor of Philosophy in Counselling Psychology
Doctor of Philosophy in Development Studies (RESEARCH)
Doctor of Philosophy in Ecology (RESEARCH)
Doctor of Philosophy in Education
Doctor of Philosophy in English and Linguistics (RESEARCH)
Doctor of Philosophy in English Language and Linguistics
Doctor of Philosophy in Enterprise Computing (RESEARCH)
Doctor of Philosophy in Entomology (RESEARCH)
Doctor of Philosophy in Guidance and Counselling (RESEARCH)
Doctor of Philosophy in Immunology (RESEARCH)
Doctor of Philosophy in Information Systems (RESEARCH)
Doctor of Philosophy in Kiswahili (RESEARCH)
Doctor of Philosophy in Knowledge Management (RESEARCH)
Doctor of Philosophy in Law Enforcement and Justice Administration
Doctor of Philosophy in Literature in English
Doctor of Philosophy in Literature in English (RESEARCH)
Doctor of Philosophy in Medical Biochemistry (RESEARCH)
Doctor of Philosophy in Medical Laboratory Sciences (RESEARCH)
Doctor of Philosophy in Microbiology (RESEARCH)
Doctor of Philosophy in Molecular Biology (RESEARCH)
Doctor of Philosophy in Natural Products Chemistry (RESEARCH)
Doctor of Philosophy in Nursing Science (RESEARCH)
Doctor of Philosophy in Organic Chemistry (RESEARCH)
Doctor of Philosophy in Public Health (RESEARCH)
Doctor of Philosophy in Religious Studies
Doctor of Philosophy in Sociology (RESEARCH)
Doctor of Philosophy in Zoology (RESEARCH)
Doctor of Philosophy in Information Technology (RESEARCH)
Doctor of Philosophy in Analytical Chemistry (RESEARCH)
Fees Payment options
Payment Options
Bank Accounts
Here are the Bank accounts that you can use to pay your school fees
| | |
| --- | --- |
| Bank Name | Account Number |
| Equity Bank | 0090292435067 |
| Standard Chartered Bank | 0102049817400 |
| Family Bank | 005000019336 |
| Kenya Commercial Bank (KCB Bank) | 1121032222 |
| National Bank of Kenya | 01047093018900 |
| NIC Bank | 21200008796 |
| Guaranty Trust Bank (GT Bank) | 2014200002 |
| Co-operative Bank | 01129279981300 |
| Lipa na Mpesa | Paybill No. 270988 |
| International Students Bank account | |
| Dollar account (KCB) | 1173740309 (swift No. KCBLKENX) |
Mpesa Fee Payment Procedures
You can now deposit your fee to our Mount Kenya University account through Guaranty Trust Bank (GT Bank) using your Mpesa.
There are only two procedures:
Procedure 1
1. Go to M-PESA menu on your phone and select Lipa na M-PESA, Pay Bill option.
2. Enter Paybill 270988.
3. Enter the account code (your admission number).
4. Enter the amount to pay, then M-PESA PIN and press Send.
5. You will receive a confirmation SMS with a unique code
Procedure 2
1. Visit www.gtbank.co.ke and select LipaNaGTBank or http://studentportal.mku.ac.ke/
2. i. For Existing students, enter your admission number and click validate
ii. For new students, enter your reference number and click Validate
iii. For new applicants, Enter ID NO.or Passport number
3. Enter your unique M-Pesa code.
4. Select reason for payment e.g. Admission, Tuition.
5. Enter phone number and/or email address of student/parent/Guardian to receive payment confirmation.
6. Click submit to automatically update your fees account
7. Confirm your payment by checking your statement through the student portal
APPLICATION PROCEDURE
Mount Kenya University strives to admit those applicants who are best prepared to benefit from and contribute to MKU academic community. Admission specialists will review your application and supporting documentation carefully to assess your overall academic preparation. In evaluating your application, the University will consider the following factors:
Mean Grade scores achieved in High School
Grades earned in core subjects depending on the specific programmes in which you are interested
Additional information provided in support of your application.
Before you apply for admission at MKU, you are encouraged to carefully consider the various degree and diploma programmes available, meet with an adviser and when you decide MKU is the place you want to be. Admission to MKU is on a first come first serve basis so be sure to complete your application early.
Whether you are interested in postgraduate, undergraduate or graduate studies, diploma or certificate programmes, you will find that MKU has a variety of programmes to chose from in fulfilling your educational and career goals.
Duly filled application forms should be addressed to the Registrar- academic Administration.
Application should be accompanied by copies of ID/Passport, relevant academic and professional certificates.
Application fee is as follows:
Ksh.1,000 (Certificates, Diplomas &Undergraduates programmes)
Ksh.2,000 (Post-Graduate programmes) for East African applicants
US Dollars 50 for all non-East African applicants.
Mode of Payment:
Payment to be deposited in either of the following Bank Accounts
Equity Bank, ACC. No- 0090292435067 SWIFT CODE EQBLKENA
KCB Bank, Acc. No – 1121032222
Coop Bank, Acc. No – 01129279981300 SWIFT CODE KCOOKENA
GT Bank, ACC. No- 2014200002
Standard Chartered Bank, ACC. No- 0102049817400 SWIFT CODE SCBLKENX
Family Bank, ACC. No- 005000019336
Money Order / Banker's Cheque payable to Mount Kenya University.
Please note
Application for admission does not guarantee admission into the University for course applied for, this will be subject to fulfillment of all requirements and class size as approved by the University Senate.For further information, kindly enquire from the Registrar, Academic Administration the programmes being offered at our campuses and study centres:
Office of Registrar Academic Administration
Mount Kenya University
PO Box 342 – 01000
Email: [email protected]
MKU FEES STRUCTURE 2022
Mount Kenya University Fees Structure – Mount Kenya University MKU has released their tuition Fee for each and every course offered within the institution for the year 2021/2022.
NOTE: Currency is in Kenyan Shillings
COLLEGE OF HEALTH SCIENCES
MBCHB Bachelor of Medicine and Bachelor of Surgery-ksh.129,550
School of Allied Health Sciences
Department of Medical Laboratory Science fee structure
PhD in Medical Laboratory Science-ksh200,000 per annum
Master of Science in Medical Laboratory Sciences MSCMLS 84,550
Bachelor of Science in Medical Laboratory Sciences BSCMLS 75,550
Diploma in Medical Laboratory Sciences DMLS 34,550
Diploma in Biomedical Laboratory Sciences DBMLS 34,550
Department of Nutrition and Dietetics fee structure
Master of Science in Nutrition and Dietetics 70,000
Bachelor of Science in Nutrition and Dietetics BCCN 54,550
Diploma in Nutrition and Dietetics DND 34,550
Certificate in Nutrition and Dietetics CND 29,550
Mount Kenya University Fees Structure
Mount Kenya University Fees Structure
Department of Dental Science fee structure
Bachelor of Science in Dental Technology BSCDT 79,550
Bachelor of Science in Oral health 79,550
Diploma in Community Oral Health 49,550
Diploma in Dental Technology DDT 49,550
School of Public Health
Department of Epidemiology and Bio Statistics fee structure
PhD in Public Health 200,000 per annum
Master of Public Health MPH 70,000
Master of Public Health in Reproductive Health 70,000(Regular & weekends ) 50,000 (virtual)
Department of Environmental Health fee structure
Master of Science in Food Hygiene and Safety 79,550
Master of Public Health Nutrition 79,550
Bachelor of Science in Environmental Health BSCEH 59,550
Diploma in Environmental Health Science DEVH 29,550
Department of Community fee structure
Master of Science in Community health (Weekends) 79,550
Master of Science in Health Education, Promotion and Development 79,550
Bachelor of Science in Community Health 54,550
Diploma in Community Health and HIV/AIDs Management DCH 29,550
Certificate in Community Health and HIV/AIDs Management CCH 24,550
Department of Health Management and Informatics fee structure
Master of Science in Health System Management 79,550
Bachelor of Science in Health System Management 54,550
School of Clinical Medicine fee structure
Master of Clinical Medicine 104,550
Bachelor of Science in Clinical Medicine and Community Health BSCMED 98,550
Bachelor of Science in Health Records and Information Management BSCHRIM 54,550
Diploma in Clinical Medicine DCM 56,000
Diploma in Health Records (Upgrading) DHRIT-UP 29,550
Certificate in Health Records and Information Technology CHRIT 29,550
SCHOOL OF PHARMACY fee structure
Post graduate Diploma in Pharmaceutical 59,550
Bachelor of Pharmacy BPHARM 98,550
Diploma in Pharmaceutical Technology DPT 34,550
SCHOOL OF NURSING fee structure
Doctor of Philosophy in Nursing 200,000
Master of Science in Nursing MSCN 100,000
Bachelor of Science in Nursing BSCN 85,550
SCHOOL OF PURE AND APPLIED SCIENCES fee structure
Department of Biological Sciences
PhD in Entomology 150,000 Per Annum
PhD in Ecology 150,000 Per Annum
PhD in Zoology 150,000 Per Annum
PhD in Conservation Biology 150,000 Per Annum
PhD in Biochemistry 150,000 Per Annum
Phd in Molecular Biology 150,000 Per Annum
Master of Science in Applied Entomology MSCAE 59,550
Master of Science in Ecology and Conservation MSCECO 59,550
Bachelor of Science in Applied Biology BSCAB 54,550
Bachelor of Science in Biotechnology BSCBIOTEC 54,550
Bachelor of Science in Environmental Science (Weekend and SB) 54,550
Bachelor of Science in food Science and Processing(Weekend and SB) 54,550
Diploma in Food Science and Processing Technology DFSP 29,550
Certificate in Bridging Biology CBB 20,550
Mount Kenya University Fees Structure
Department of Physical Sciences fee structure
PhD in Chemistry 150,000 Per Annum
PhD in Natural Products Chemistry 150,000 Per Annum
Bachelor of Science in Laboratory Science BSCLS 54,550
Bachelor of Science in Industrial Chemistry BSCIC 54,550
Diploma in Science Laboratory Technology 29,550
Pre-University PU 24,550
Certificate in Bridging Chemistry CBC 20,550
Master of Science in Statistics 59,550
Bachelor of Science in Statistics 59,550
Bachelor of Science in Actuarial Science BSCAS 45,550
Certificate in Bridging Mathematics CBMATHS 20,550
Department of Animal Health Production fee structure
PhD in Immunology 150,000 Per Annum
Bachelor of Science in Animal Health And Production BAH 59,550
Bachelor of Science in Agriculture and Rural Development 54,550
Bachelor of Science in Animal Science 54,550
Diploma in Animal Health and Production DAH 34,550Certificate in Animal Health and Production CAH 29,550
Certificate in Artificial Insemination CAI 33,600
SCHOOL OF COMPUTING AND INFORMATICS fee structure
Department of Information Technology
Master of science in Cyber Security 59,550
Master of Science in Information Technology MSCIT 59,550
Bachelor of Science in Information Technology BSCIT 45,550
Diploma in Information Technology DIT 24,550
Diploma in Information System 24,550
Certificate in Information Technology CIT 20,550
Department of information Science and Knowledge Management fee structure
Master of Science in Information Science MSCIS 69,550
Bachelor of Science in Information Science BSCIS 45,550
Diploma in Information Science DIS 24,550
Department of Enterprise Computing fee structure
Bachelor of Business and Information Technology BBIT 45,550
Diploma in Business Information Technology DBIT 24,550
Certificate in Business Information Technology CBIT 20,550
SCHOOL OF ENGINEERING, ENERGY AND BUILT ENVIRONMENT fee structure
Department of Energy and Environmental Engineering
Bachelor of Science in Energy and Environmental Technology BSCEET 54,550
Bachelor of Science in Petroleum Exploration and Production BPEP 54,550
Department of Electrical and Electronic Engineering fee structure
Diploma in Electrical and Electronic Engineering DEE 29,550
Diploma in Medical Engineering DME 29,550
Mount Kenya University Fees Structure
SCHOOL OF BUSINESS AND ECONOMICS fee structure
Department of Management
Doctor of Philosophy in Business Administration and Management PHD.BAM 200,000 Per Annum
Master of Science in Procurement and Supplies Management MSCPSM 59,550
Master of Arts in Public Administration and Management MAPAM 59,550
Master of Science in Human Resource Development 59,550
Master of Science in Marketing 59,550
Master of Science in Entrepreneur 59,550
Master of Science in Office Administration and Management 59,550
Master of Science in Project Planning and Management 59,550
Bachelor of Science in Office Administration and Management 54,550
Bachelor of Science in International Business Administration 54,550
BBM Bachelor of Business Management 45,550
Bachelor of Arts in Public Administration 54,550
Bachelor of Office Administration and Management 54,550
Diploma in Human Resource Management DHRM 24,550
Diploma in Business Management DBM 24,550
Diploma in Marketing Management DMM 24,550
Diploma in Entrepreneurship DEP 24,550
Diploma in Supplies and Procurement Management DSPM 24,550
Diploma in Project Management DPM 24,550
Certificate in Business Management CBM 20,550
Certificate in Human Resource Management CHRM 20,550
Certificate in Marketing Management CMKT 20,550
Certificate in Entrepreneurship CEN 20,550
Certificate in Supplies and procurement Management CSPM 20,550
Certificate In Project Management CPM 20,550
Mount Kenya University Fees Structure
Mount Kenya University Fees Structure
Department of Economics fee structure
Master of Arts in Economics 59,550
Bachelor of Economics and Finance BECF 45,550
Bachelor of Science in Economics BEC 45,550
Bachelor of Science in Economics and Statistics BECS 45,550
Bachelor of Science in Finance and Statistics 45,550
Department of Accounting and Finance fee structure
Doctor of Philosophy in Business Administration 250,000 Per Annum
Master of Business Administration MBA 59,550
Master of Science in Finance 59,550
Master of Science in Accounting 59,550
Bachelor of Science in Real Estate Management BRM 54,550
Bachelor of Commerce BCOM 45,550
Diploma in Banking and Finance DBF 24,550
Diploma in Micro-Finance 24,550
Mount Kenya University Fees Structure
SCHOOL OF HOSPITALITY ,TRAVEL AND TOURISM MANAGEMENT fee structure
Masters of Science in Hospitality Management 59,550
Bachelor of Science in Travel and Tourism Management BTTM 54,550
Bachelor of Science in Hospitality Management BSCHM 54,550
Diploma in Travel and Tourism Management DTTM 32,55
Diploma in Hospitality Management DHM 32,550
Certificate in Travel and Tourism Management CTT 29,550
Certificate in Hospitality Operations 24,550
Certificate in food Production 24,550
Certificate in food and beverages 24,550
Mount Kenya University Fees Structure
School of Law fee structure
Master of Laws 100,000
Bachelor of Laws BLAW 70,000
Diploma in Law DLAW 49,000
School of Social Sciences fee structure
Department of Psychology
Doctor of Philosophy (PhD) in Counseling Psychology PHD.COUNS 250,000 Per Annum
Master of Arts in Counseling Psychology MACP 59,550
Post graduate Diploma in Counseling Psychology 49,550
Bachelor of Counseling Psychology BCP 45,550
Diploma in Counseling Psychology DCP 24,550
Department of English and Foreign Languages fee structure
PhD in English & Linguistics 200,000 Per Annum
PhD in Literature in English 200,000 Per Annum
Master of Arts in English Language and Linguistics 59,550
Master of Arts in Literature 59,550
Bachelor of Arts in French 45,550
Bachelor of Arts in Arabic Language 45,550
Certificate in English Language and Proficiency 20,550
Certificate in Chinese Language and Proficiency 20,550
Certificate in Bridging English CBE 20,550
Department of Kiswahili and Other African Languages fee structure
PhD in Kiswahili 200,000 Per Annum
Master of Arts in Kiswahili MAKI 59,550
Certificate in Bridging Kiswahili CBK 20,550
Department of Humanities fee structure
PHD RS Doctor of Philosophy (Ph.D) in Religious Studies 250,000 Per Annum
Master of Arts in Religious Studies 59,550
Master of Arts in History 59,550
Master of Arts in Geography 59,550
Master of Arts in International Relations and Diplomacy 59,550
Master of Arts in Philosophy 59,550
Bachelor of Arts in International Relations 54,550
Diploma/Certificate in International Relations (Public) 24,550
Certificate in Environmental Impact Assessment 20,550
Related Posts How to Succeed in Kenya with a D or E in KCSE
Department of Social and Development Studies fee structure
PhD in Development Studies 200,000 Per Annum
PhD in Sociology 200,000 Per Annum
Master of Arts in Development Studies MADS 59,550
Master of Arts in Monitoring and Evaluation MAME 59,550
Master of Arts in Sociology 59,550
Post Graduate Diploma in Monitoring and Evaluation PGDME 45,550
Bachelor of Arts in Community Development BCD 45,550
Bachelor of Social Work and Administration 45,550
Bachelor of Development Studies BDS 45,550
Bachelor of Arts in Sociology 45,550
Bachelor of Arts in Sociology and Development Studies 45,550Diploma in NGO Management 24,550
Diploma in Community Development and Social Work DCD 24,550
Certificate in Community Development and Social Work CCD 20,550
Department of Journalism and Mass Communication fee structure
Master of Arts in Film Studies MAFS 64,550
Master of Arts in Journalism and Media Studies 59,550
Bachelor of Arts in Film Studies and Animation 59,550
Bachelor of Arts in Mass Media and Communication BAMMC 54,550
Diploma in Journalism and Mass Communication DJMC 29,550
Diploma in Film Production (Studies) DFP 34,550
Diploma in Animation and Motion Studies DAMS 34,550
Diploma in Public Relations and Diplomacy DPR 24,550
Certificate in Public Relations and Diplomacy CPR 20,550
Certificate in Journalism and Mass Communication CJMC 24,550
Institute of Security Studies, Justice and Ethics fee structure
Master of Arts in Governance and Ethics MGE 59,550
Master of Arts in Justice and Security Studies 59,550
Master of Arts in Law Enforcement and Public Administration 59,550
Bachelor of Arts in Security Studies and Criminology BACSM 45,550
Bachelor of Arts in Peace Studies and Conflict Resolution BAPSCR 45,550
Bachelor of Arts in Justice and Security Studies BAJSS 45,550
Bachelor of Arts in Public Administration and Governance BAPG 45,550
Diploma in County Administration and Governance 24,550
Diploma in Conflict Resolution and Peace Management. DCRPS 24,550
Diploma in Security Studies and Criminology DCRM 24,550
Certificate in Security Studies and Criminology CCRM 20,550
Certificate in Peace Studies and Conflict Resolutions 20,550
Mount Kenya University Fees Structure
Department of Educational Management and Curriculum studies fee structure
PhD in Education 250,000 Per Annum
Master of Education MED 59,550
Master of Education – School Based MED 45,000
Post graduate Diploma in Education (School Based) 32,000
Bachelor of Education (Science) BEDSCI 48,550
Bachelor of Education (Arts) BEDA 45,550
Bachelor of Education (Arts) – School Based BEDA 24,000
Bachelor of Education (Science) – School based BEDSCI 27,000
Bachelor of Education (Primary Option) 45,550
Diploma in Education (Arts) DTEA 29,550
Diploma in Education (Science) DTES 32,550
Mount Kenya University Fees Structure
Department of Education Psychology and Technology fee structure
Doctor of Philosophy in Education PHDED 250,000 Per Annum
Department of Special Needs tuition fee
Bachelor of Education in Special Needs Education (Secondary Option) BEDSNES 45,550
Diploma in Special Needs Education DSNE 24,550
Mount Kenya University Fees Structure
Department of Early Childhood Studies fee structure
Doctor of Philosophy 250,000 Per Annum
Bachelor of Education in Early Childhood Studies BECD 45,550
Diploma in Early Childhood Education and Development DECD 24,550